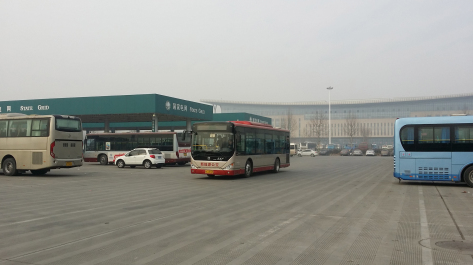 Efficient Drivetrains Inc. (EDI), a provider of advanced high-efficiency, zero-emissions hybrid and electric vehicle (EV) drivetrain solutions, says that it has received a major order for its EDI PowerDrive 6000 systems from the city of Sheyang in China.
According to EDI, the company is supplying its drivetrain technology to Yaxing Motor Coach for integration into a fleet of city buses to be delivered in March of this year.
This news follows close on the heels of a company milestone: Its EDI PowerDrive 6000 plug-in hybrid EV (PHEV) drivetrain system surpassed 1 million miles in a commercial fleet setting in late 2016.
Utilized for a mass transportation application, EDI PowerDrive 6000, certified by the China government, delivered full OEM performance, with over 40% improvement in fuel economy and emissions reductions as the system was deployed in the field to perform standard bus routes in place of its conventional diesel fuel counterpart.
EDI says it has been active in supplying its EDI PowerDrive and Vehicle Integration in China since 2010. The company has worked with one of the largest truck manufacturers globally, major vehicle manufacturers and technology developers in China to produce drivetrains solutions spanning Class 2-8 for compressed natural gas PHEV city buses, PHEV port trucks, PHEV cement mixers, and PHEV sport utility vehicles and light-duty trucks.
Specifically, prior to this new order for Yaxing Motor Coach, EDI says it worked with Shaanxi Automotive to build a fleet of PHEV-CNG buses in Xi-an and also with Ankai for PHEV diesel buses.
EDI continues to grow its technology and business footprint in China, with offices in Wuxi, Shanghai and Beijing.
"Globally, government and industry regulatory bodies continue to pursue aggressive mandates to reduce emissions. With China continuing to introduce major policies to evolve to electric vehicles, we expect that the market will maintain a rapid upward pace," says Joerg Ferchau, CEO of EDI. "Our company made an informed decision to create both a business and technology footprint early on, including applying for and receiving government certification of our technology. EDI's portfolio PHEV and EV drivetrain, connected vehicle, and exportable power solutions will continue to help OEM and fleet operators across the globe meet zero-emissions mandates."
"EV and PHEV bus drivetrain solutions from EDI have tremendous potential in China, with our EDI PowerDrive solutions reducing emissions and fuel consumption by up to 50 percent. In many cases, mass transportation buyers see an ROI in under 18 months. We're very optimistic about our partnership with ENCA, our local integration partner and the business opportunities," says CW Chen, vice president in technology and business development.