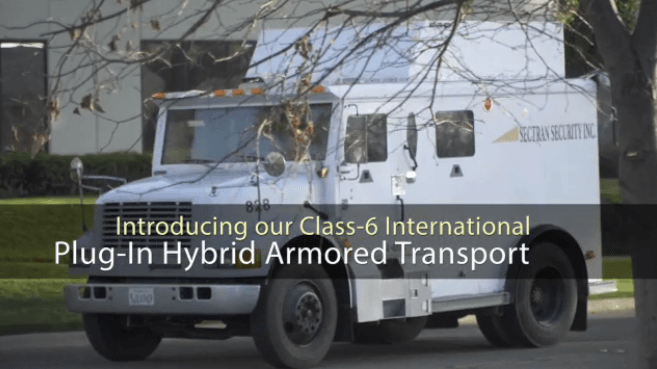 Efficient Drivetrains Inc. (EDI), a high-efficiency, zero-emissions hybrid and electric vehicle drivetrain solutions provider, says it has delivered the first of six plug-in hybrid electric (PHEV) armored vehicles with renewable compressed natural gas (RCNG) range extension to Sectran Security.
According to EDI, the Class-6 International brand armored truck was the first delivery from the company's newly expanded Dixon, Calif., hybrid and electric vehicle center.
As reported, the vehicle program is a collaboration between Efficient Drivetrains and North American Repower, California's natural gas engine management and conversion technology company.
"The combination of the North American Repower Renewable CNG solutions and PHEV technology from EDI represents an ideal combination, allowing complete duty cycle operation without refuel/recharging with extended range and constant vehicle operation, like in the case of Sectran Security," says John Reed, North American Repower's chief administrative officer. "The unique ability to use the EDI PowerDrive in tandem allows elimination of transient IC engine operations, dramatically reducing NOx when the CNG engine is in use.
"With RCNG becoming readily available at Clean Energy Stations, and the expansion of available charging infrastructure, we believe this collaboration will be transformative in our industry," he continues.
Under a California Energy Commission grant, the companies are working to convert a fleet of six, Class-6 International armored trucks into "Zero Emission with Range Extension" vehicles – PHEV trucks that operate with electricity and renewable natural gas. The result is a full OEM-performance electric vehicle that utilizes RNG for range extension and reduces emissions by up to 99% in certain duty cycles. The collaboration between the companies is a model program to support the rapid acceleration toward a zero-emissions environment.
Currently, Sectran Security trucks make frequent stops as part of their highly congested routes. At each stop, engines are kept idling for security purposes but now risk violating California's strict diesel idling regulations, which prohibit idling the engine for more than five minutes. With the modernized trucks, engine idling is eliminated entirely by operating in all-electric mode during stop-and-go operations and in hybrid mode using RNG during highway operations.
When the full fleet of six is complete, the vehicles will enable Sectran Security to reduce annual diesel consumption by 31,000+ gallons, significantly reduce annual fuel costs, and reduce emissions by up to 99.9%.
"The technology collaboration between Efficient Drivetrains and North American Repower represents tremendous potential as we work to improve air quality and meet industry mandates related to emissions reductions. World's-first vehicle programs like these play an essential role in helping California meet its aggressive carbon reduction and zero emissions goals," says Joerg Ferchau, CEO of Efficient Drivetrains Inc. "We're looking forward to completing the full fleet this year."