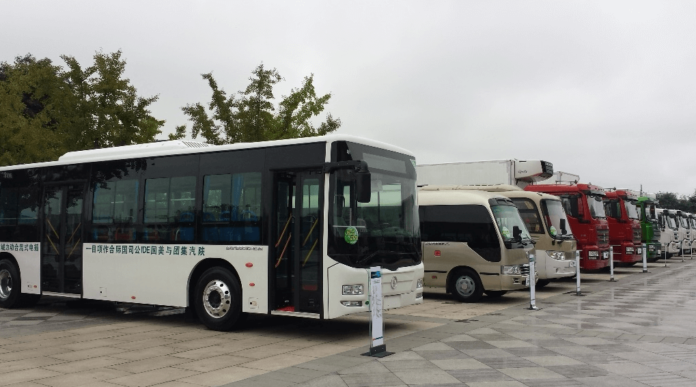 Efficient Drivetrains Inc. (EDI), a provider of advanced, high-efficiency, zero-emissions hybrid and electric vehicle (EV) drivetrain solutions, says it has been selected by four major OEMs in China to integrate its EDI PowerDrive 6000 systems into 8- and 12-meter buses across multiple territories.
As reported, the company will be supplying its EDI PowerDrive Plug-in Hybrid Electric (PHEV) drivetrains and EDI PowerSuite vehicle control software to major OEMs, including Shaanxi Automotive, Ankai, Xiamen Jinlong and Yaxing Motors as the companies work to rapidly offer electrified buses in response to government mandates.
As government regulations and subsidy programs in China continue to drive electrification of vehicle platforms, bus OEMs are looking for partners to enable them to rapidly comply with mandates requiring them to reduce emissions significantly over the next 10 years.
This announcement follows the company's delivery of its largest production order of 40 bus drivetrains – placed in the first quarter of this year, built on the Yaxing Motors platform for the City of Jiangsu Sheyang.
EDI says the new city buses will be deployed in replacement of standard diesel buses and will reduce fuel consumption and emissions by over 40% when compared with their traditional counterpart.
As part of its China bus initiative, EDI has worked to qualify its drivetrain technology with a wide range of cities, allowing the company to compete on a broad scale. As the year progresses, EDI will continue to work to expand commercial bus deployments to territories across China and Taiwan.
Working in conjunction with its new OEM partners, EDI expects to close orders for several hundred more bus drivetrains by the third quarter.
Since its initial work in China in 2010, EDI has continued to deliver vehicle integration programs and drivetrain solutions for some of the country's largest vehicle manufacturers spanning Class 2 through 8.
"China continues to diligently pursue its emissions reduction targets with the introduction of aggressive government policies requiring a move from traditional diesel-based fuels to electric," says Joerg Ferchau, CEO of EDI.
"With electrified buses accounting for 20 percent of the total bus fleet in 2016, and this kind of continued growth and market share, it can be expected that China can make an all-electric a reality," he continues. "Our portfolio of PHEV and EV drivetrain solutions and vehicle control software will enable large OEMs in China to rapidly introduce electrified options into the marketplace."