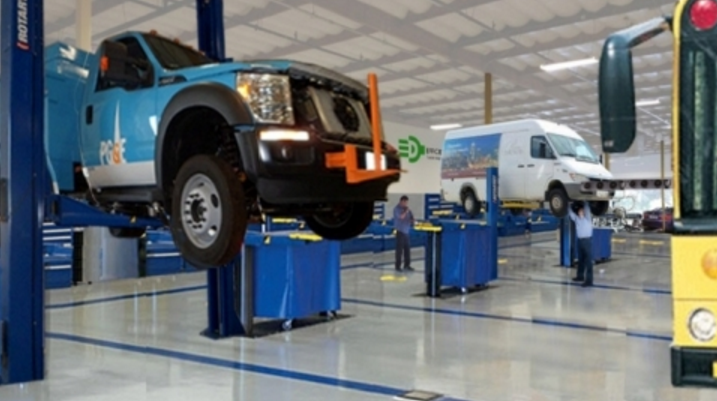 Efficient Drivetrains Inc. (EDI), a provider of advanced high-efficiency zero-emissions hybrid and electric vehicle (EV) drivetrain solutions, says it has created a hybrid and EV center of excellence focused on the development of EV and plug-in hybrid electric vehicle (PHEV) commercial vehicles for its customers in North America.
As reported, the new business unit will apply the company's strengths in rapid creation of proof-of-concept and demonstrator vehicles for Tier 1 suppliers, OEMs, upfitters, and end users looking to offer performance-leading EVs.
EDI says the new division will be operated out of the company's recently leased facility in Dixon, Calif., and will begin new OEM and end-user customer projects by the end of Q1 2017.
The expanded facility will be responsible for integrating the company's EDI PowerDrive line of EV and PHEV drivetrains, EDI PowerSuite Vehicle Control Software and Telematics, and EDI Power2E 2 Way Charging and Exportable Power solutions into commercial fleet vehicles.
The Vehicle Engineering and Integration division will work with Tier 1 suppliers, vehicle OEMs, upfitters and end users to rapidly bring EVs to market and can support limited volume builds of those vehicles. The company's Silicon Valley Global Headquarters and Innovation Center will continue to house EDI's drivetrain and electrification products engineering, research and development, sales, marketing and administration divisions.
EDI has already implemented its PowerDrive and PowerSuite solutions on major OEM platforms globally, including Ford, GM, International, Peterbilt, Freightliner, JAC, Shaanxi, Ankai, Xinkai and others. EDI's goal is to support its customer by providing a service to rapidly integrate the company's products and technologies into commercial vehicles of all types and then to transfer that build knowledge to OEMs and vehicle upfitters for mass production.
"Our expanded services offering and vehicle engineering and manufacturing focus allows our customers to benefit from the experience EDI has developed while engineering and building numerous quick turn hybrid and electric vehicles in the past," says Joerg Ferchau, CEO at EDI.
"With the rapid movement for commercial fleet operators to comply with zero-emissions regulations, expanding our solutions offering to include vehicle integration services and support will accelerate the ability for Tier 1 Suppliers, OEMs, upfitters to offer compliance-ready vehicles while reducing time to market and overall development costs," he says. "The changes we are announcing reflect our commitment to developing the industry's leading next-generation of EV and PHEV commercial work truck solutions."