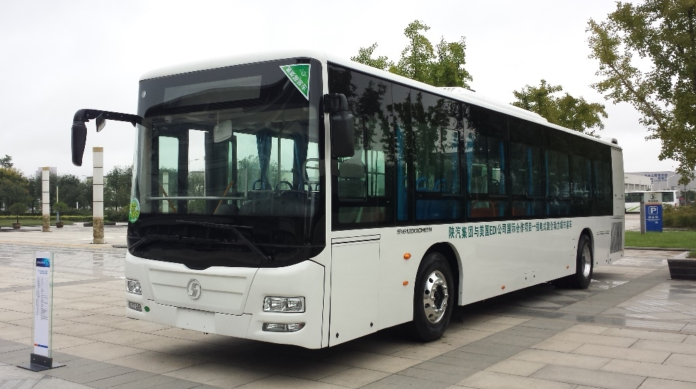 Efficient Drivetrains Inc. (EDI), an advanced high-efficiency zero-emissions hybrid and electric vehicle drivetrain solutions provider, says that it has received a new bus drivetrain production order to integrate its EDI PowerDrive 6000 systems into 12-meter buses for the Chinese city of Tianshui as it works to electrify its fleet.
According to EDI, the company will be supplying its EDI PowerDrive Plug-in Hybrid Electric (PHEV) drivetrains and EDI PowerSuite vehicle control software to Yaxin Motors for vehicle integration. The city buses will replace 26 standard diesel buses, reducing fuel consumption and emissions by over 40% when compared to the vehicles' traditional counterparts.
With its delivery of its government-certified drivetrain solutions to electrify 8-, 10.5-, and 12-meter buses, EDI has over 90 buses deployed with its PHEV drivetrain systems and expects to close orders for several hundred more bus drivetrains by the end of 2017.
Available for Class 4-8 commercial vehicles, the EDI PowerDrive advanced suite of hybrid and electric drivetrain solutions enables OEMs, suppliers and integrators to rapidly and cost-effectively bring electric and hybridized vehicles to market. The EDI PowerDrive 6000 deployed in the fleet of China buses has recently undergone performance, durability and gradeability testing – with results demonstrating ideal fuel economy, higher gradeability, and significantly reduced emissions when compared to other major PHEV bus offerings in the market.
The news follows the company's recent announcement on integrating its EDI PowerDrive 7000e electric drivetrain into a Type D school bus to deliver a zero-emissions, all-electric school bus with 100 miles of driving range.
"This new award follows our recently announced Type D bus integration program for Bluebird in North America in July," says Joerg Ferchau, CEO of EDI. "The follow-on production order comes as a direct result of our focus on developing new program opportunities with existing OEM partners in the geography.
"EDI first received a prototype award and certification for the first China buses in 2015, with several follow-on projects over the course of the last two years," he continues. "Based on the success of our programs in China, we are now actively delivering on opportunities with industry partners in North America, as well."