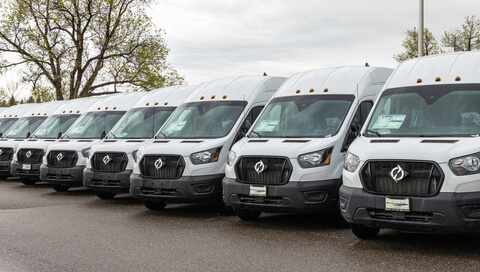 Lightning eMotors has signed a contract with Canadian commercial vehicle distributor Macnab EV Sales Corp. to deliver 126 vehicles by the end of this year.
Deliveries of Lightning's ZEV3 electric vans to Macnab have already begun. The full order includes ZEV3 cargo and passenger van configurations and ZEV4 shuttle buses.
"It's an honor – and a testament to the quality and reliability of our vehicles – to receive this order from Macnab as they begin their foray into commercial EVs," says Tim Reeser, CEO of Lightning eMotors. "We are proud they chose Lightning vehicles for their customer EV offering and look forward to getting these vehicles into customers' hands this year as we further expand our footprint in Canada."
Macnab has been in the Canadian commercial transportation industry since 1935.
"Lightning was a pleasure to work with through our evaluation process," says Matthew Bannon, president of Macnab EV Sales Corp. "We are confident in our choice and look forward to deploying these vehicles at a variety of locations across Canada."
The deal comes as Lightning ramps up production of its all-new, GM-based ZEV4 platform, featuring school bus, box truck and shuttle bus configurations. In addition, Lightning's mobile DC fast charging system, Lightning Mobile, is now in production and reaching customers in the coming months.