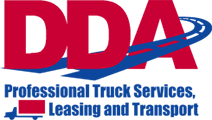 DDA Transport, a USPS mail contractor based in Londonderry, N.H., has added six propane-fueled straight trucks to its fleet. The Ford trucks are powered by ROUSH CleanTech propane autogas technology.
"As a supplier to the US Postal Service, we are continually striving to find ways to protect the environment through sustainability efforts," says Dwayne Andreasen, president of DDA Transport. "Our fuel consumption is our biggest environmental concern, so the ability to lower this impact through propane autogas helps us achieve our short- and long-term goals."
DDA Transport anticipates saving $25,000 in fuel spending and up to an additional $15,000 in maintenance and uptime costs for each truck annually compared to their diesel models. Andreasen says they plan to use the cost savings to add more propane vehicles to their fleet.
For fueling, the company chose to work with Ferrellgas to install an onsite propane station.
"We need onsite fueling because our trucks run on very strict schedules and are typically running from the early morning hours until the late evening," Andreasen says. "Ferrellgas not only provided the fuel but also worked out a cost-effective solution by incorporating a fueling station into a long-term fuel contract."
DDA Transport currently operates a fleet of over 160 vehicles. Each truck travels 75,000 to 90,000 miles per year. The company's goal is to achieve a 50/50 mix between diesel and propane autogas within the next few years.