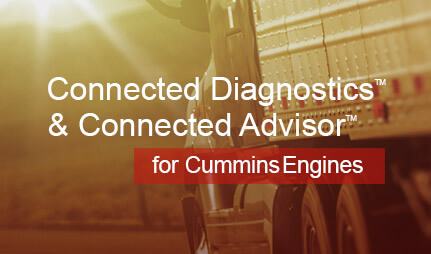 Zonar, a provider fleet management solutions, has announced a new partnership with diesel and natural gas engine manufacturer Cummins Inc.
The companies are offering joint customers Cummins Connected Diagnostics with Connected Advisor, two wireless uptime technologies that are included with Cummins engines.
Connected Advisor provides customers with daily and monthly health reports that consist of prioritized, time-based recommendations to distinguish between immediate repair needs and those that can be scheduled a few days out. The solutions are designed to enhance and deliver actionable information to customers by intelligently interpreting diagnostics codes delivered from Cummins engines via Zonar's telematic control unit and Cummins Connected Diagnostics.
"We're pleased to work with Zonar to enable our joint customers with access to engine fault reports, including suggested root causes and recommended actions, so fleet managers can act strategically and in a timely manner, depending on the sense of urgency," says Todd Mysak, executive director at Cummins. "By delivering Connected Advisor to our customers, Zonar and Cummins can ensure that more fleets are keeping their vehicles on the road by eliminating the guesswork and ambiguity from vehicle service scheduling."
"Cummins and Zonar have the shared goal of ensuring our customers' vehicles are running safely by keeping them informed on the health of their engines," adds Gary Schmidt, vice president of business solutions at Zonar. "With Connected Advisor, customers get an additional level of support in interpreting engine issues so that they can better understand and prioritize issues requiring attention, improving overall operational efficiency."
The joint program delivers Connected Advisor throughout the engine warranty period.