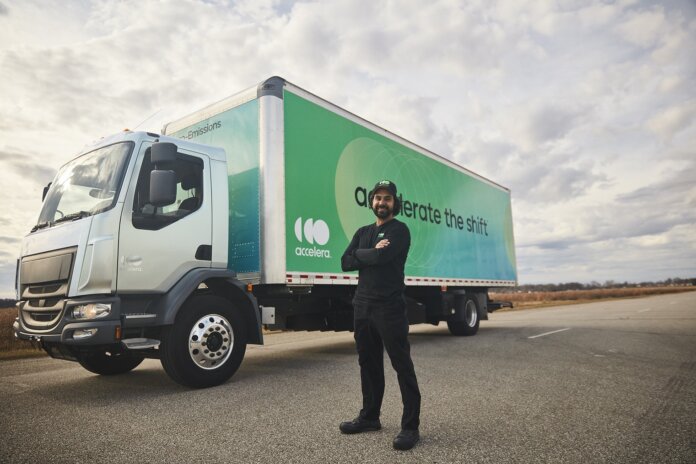 Cummins Inc. has introduced its new "Accelera by Cummins" brand within its New Power business unit.
The company says the launch of Accelera is a significant step forward in its efforts to achieve its Destination Zero strategy, focused on evolving Cummins technologies to reach zero emissions across its product portfolio.
Over the past several years, Cummins has invested more than $1.5 billion in research and technology, capital and acquisitions to build Accelera's leadership and technological capabilities. Accelera currently provides battery electric and fuel cell electric solutions across commercial and industrial applications, with hundreds of electrolyzers generating hydrogen around the world today.
"Achieving our goal of reaching net-zero emissions by 2050 requires leveraging our entire portfolio of businesses," says Jennifer Rumsey, Cummins' president and CEO. "As we have continued to lead in and advance the engine-based solutions that power our customers' businesses, we have also built the broadest combination of zero-emissions technologies dedicated to the commercial vehicle industry."
Accelera is advancing a range of zero-emissions solutions, including hydrogen fuel cells, batteries, e-axles, traction systems and electrolyzers, to sustainably power a variety of industries, including commercial transportation.
Amy Davis, who has led the New Power business unit since 2020, will serve as president of Accelera. Davis has served in a number of global and business leadership roles during her more than 25 years with Cummins. In her role as Accelera president, Davis will continue to lead the innovation and business development of zero-emissions technologies.
"Launching this new brand drives additional focus in our business and enables us to stay ahead of the ever-changing zero-emissions landscape," Davis says. "By leveraging Cummins' deep understanding of our customers' needs and the demands of their applications, Accelera will deliver leading zero-emissions technologies necessary to accelerate the shift to zero."
In addition to the branding news, Accelera has announced that it will be working with Blue Bird to power a new fleet of 1,000 electric school buses over the next 12-18 months. Production will be significantly accelerated, more than doubling the number of zero-emissions school buses that the pair have put into operation to date.