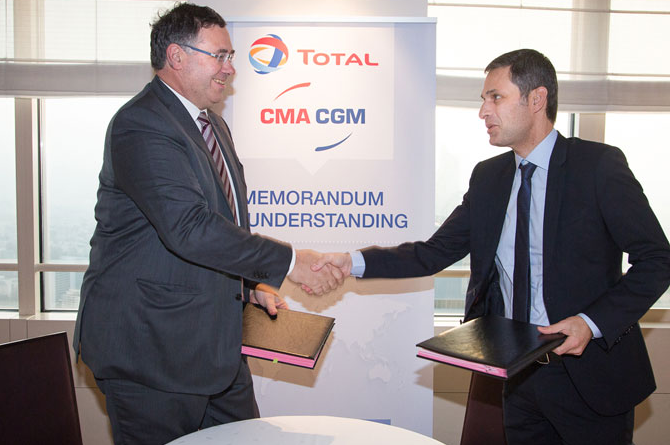 Total, an international oil and gas company, and CMA CGM, a worldwide shipping group, have signed a three-year memorandum of understanding (MOU) to supply a range of multi-fuel solutions, including liquefied natural gas (LNG).
According to the joint release, the two partners will be combining their expertise to prepare for stricter fuel regulations in the shipping industry and further reduce the sector's footprint by developing solutions that make container ships more environment-friendly.
Total will support CMA CGM by becoming its multi-fuel supplier, providing the following solutions:
Fuel oil with a sulfur content of 0.5%;
Fuel oil with a sulfur content of 3.5% for ships equipped with exhaust gas cleaning systems, or scrubbers, which reduce the polluting emissions before they are released into the atmosphere; and
LNG, which offers numerous advantages from an environmental standpoint, including the reduction of CO2 emissions, the elimination of sulfur oxide emissions, and the drastic decrease of nitrogen oxides and particulate matters.
"The new regulations require both marine fuel suppliers and shipping industry stakeholders to adapt quickly. That is why we are working hand in hand with CMA CGM, a long-standing partner," explains Patrick Pouyanné, chairman and CEO of Total.
"With the signature of this MOU, CMA CGM is continuing the sustainable development process begun several years ago," says Rodolphe Saadé, vice chairman of CMA CGM. "The solutions offered by Total will enable us to further minimize the environmental impact of the group's activities and is a next step in building a more environmentally conscious shipping industry."
Photo courtesy of Guillaume Perrin/Total – Patrick Pouyanné, chairman and CEO of Total, and Rodolphe Saadé, vice president of CMA CGM.