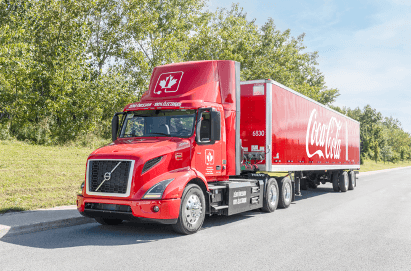 Volvo Trucks North America customer Coke Canada Bottling Ltd. (Coke Canada Bottling) has unveiled its first Volvo VNR Electric trucks.
The trucks are part of a six-truck pilot of electric vehicles to service their "Red Fleet" customer delivery routes throughout the greater Montreal area.
Coke Canada Bottling was the first Canadian food and beverage manufacturer to announce the adoption of electric Class 8 trucks into its fleet.
Coke Canada Bottling's Volvo VNR electric trucks' debut took place during a special fifth birthday celebration held at the company's distribution centre in east Montreal, home to a fleet of 650 heavy-duty vehicles that service customers across the region. Celebrations included in-person driving experiences for employees. Other stakeholders were also on-hand at the event demonstrating their support of the initiative.
"Our global brand and this Canadian, family-owned business are well aligned on rapidly advancing environmental sustainability action plans," says Peter Voorhoeve, president, Volvo Trucks North America. "We look forward to supporting Coke Canada Bottling as they test out feasibility through this pilot. The deployment of the first battery-electric Volvo VNR Electric trucks at their fifth birthday celebration demonstrates the importance of pursuing environmental sustainability goals, which benefit the community and employees at every level."
Coke Canada Bottling's trucks feature a six-battery configuration that can cover up to 440 km (275 miles) on a single charge as the trucks make several daily round trips of 150 km (93 miles) from the beverage company's distribution center in Montreal to customer locations throughout the region. Coke Canada Bottling also installed three 150 kW DC chargers with nine dispensers at its Montreal distribution center to support drive-through charging for the Volvo VNR Electric trucks. The trucks have a battery capacity of 565 kWh and can obtain an 80 percent charge in just 90 minutes.
The trucks will be supported by their local Volvo Trucks Certified Electric Vehicle dealership.
Coke Canada Bottling utilized the federal and provincial incentives Écocamionnage and the Incentives for Medium- and Heavy-Duty Zero-Emission Vehicles (iMHZEV) Program funding to offset the cost of the trucks.
To learn more about Volvo Trucks North America and the Volvo VNR Electric, visit the company website.