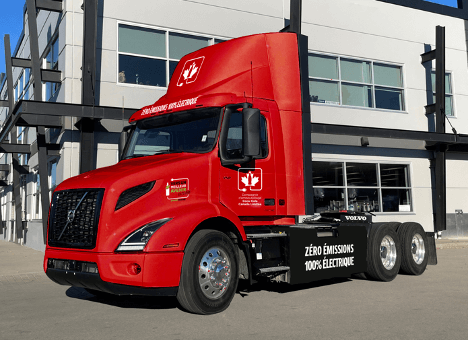 Coca-Cola Canada Bottling Ltd. is acquiring six Volvo VNR Electric trucks as a part of a pilot program to service its customer delivery routes throughout greater Montreal.
The six trucks are the first Class 8 battery-electric trucks in the beverage distributor's fleet of 650 heavy-duty vehicles to service customers throughout the region. Coke Canada Bottling is the first Canadian food and beverage manufacturer to use zero-tailpipe emission trucks, and all six Volvo VNR Electric trucks will be delivered throughout 2023.
Volvo Trucks hosted a Demo Day this week at Coke Canada Bottling's Montreal distribution center for delivery drivers to test-drive the new trucks. Participants learned ways to optimize the Volvo VNR Electric's range, such as leveraging regenerative braking benefits to add power back to the battery.
"Coke Canada Bottling is making tremendous strides towards their environmental sustainability goals by adding Volvo VNR Electric trucks to their fleet to service their beverage customers in the greater Montreal region," says Peter Voorhoeve, president, Volvo Trucks North America. "It was an excellent opportunity to mark this clean fleet milestone during Earth Month with Coke Canada's employees and is a tremendous honor to partner with them as they continue their electromobility transition."
The battery-electric fleet features a six-battery configuration that can cover up to 275 miles on a single charge, as the trucks make several daily round trips of approximately 100 miles from the company's distribution center in Montreal to customer locations.
To support charging its battery-electric fleet, Coke Canada Bottling is also installing three 150 kW DC chargers with nine dispensers at its Montreal distribution center. The charging infrastructure is anticipated to be complete in June.
Coke Canada Bottling also has several light-duty electric service vehicles in the Montreal area and uses B20 biofuels on all trucks newer than 2012.