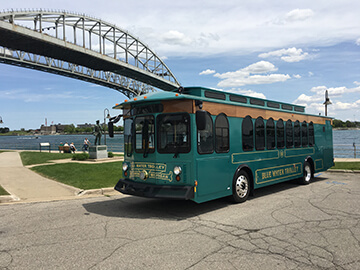 Blue Water Area Transit (BWAT), based out of Port Huron, Mich., has welcomed a new trolley powered by compressed natural gas (CNG).
According to BWAT, the trolley provides one-hour tours of more than 50 local points of interest for a ten-cent fare.
The handicap-accessible vehicle was designed and manufactured by Home Town Trolley Co. of Crandon, Wis., and was purchased with a federal Congestion Mitigation and Air Quality Improvement (CMAQ) grant. The Federal Highway Administration's (FHWA) CMAQ funding program supports projects that contribute air quality improvements and/or provide traffic congestion relief. The FHWA funded 80%, and the Michigan Department of Transportation contributed 20%.
BWAT also operates a fleet of CNG transit buses.