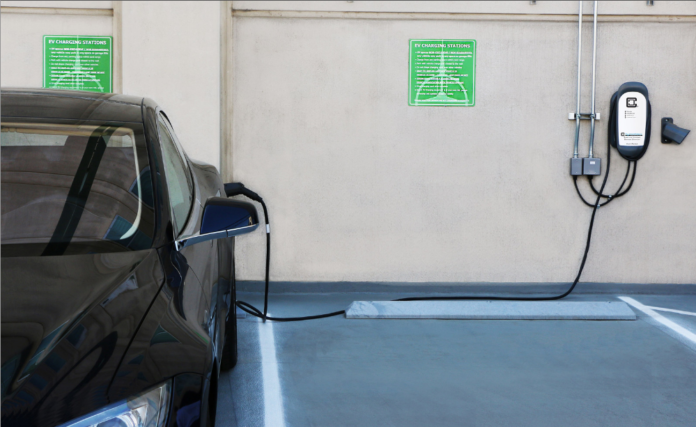 ClipperCreek Inc. recently unveiled a new expansion card for its HCS product line of charging stations. The company says COSMOS is an option for the Level 2, 240 V ClipperCreek HCS Series and can be added to any HCS Series charging station for just $184.
"With the acceleration of the electric vehicle market, there's an increased need for charging infrastructure. Many companies desire integration of EV charging with existing building energy management systems," says Jason France, President and founder of ClipperCreek. "COSMOS is a comprehensive interface that can be utilized by a variety of systems, but is extremely affordable."
Designed for developers, system operators, and system integrators, COSMOS features a simple digital load management interface, as well as UART Serial Communication interface for more advanced connection to third party monitoring and control systems.
Available UART Serial commands include the following:
Set EVSE Pilot (available power) level – 5 levels;
Monitor vehicle connected status;
Monitor EVSE active/inactive status;
View advanced EVSE diagnostics information; and
System defaults to hardwired digital load management if serial communication lost.
Digital Load Management Interface features include the following:
Four levels of output power control; and
Optically coupled Open Collector output – pulled low when EVSE makes power available for charging.
ClipperCreek's director of sales, Will Barrett, says, "COSMOS allows users to easily add EV charging to existing building and energy management or other control infrastructure, leveraging what they already have in place to get the features they need at the best value. The COSMOS digital and serial interfaces are both being successfully used by several companies and developers today."
The company says COSMOS-enabled HCS charging stations are delivered fully assembled with a communication conduit for external access to serial and digital load management interfaces. COSMOS is compatible with the ChargeGuard key-based access control and "Ruggedized" HCS charging stations.