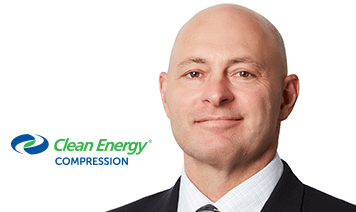 Clean Energy Fuels Corp. has appointed Frank Meyer president of its subsidiary, Clean Energy Compression, manufacturer of non-lubricated natural gas compressors.
Meyer brings 24 years of leadership experience to Clean Energy after serving in a variety of C-Suite level roles, such as general manager with Finning International, and in positions such as executive vice president of the Colco and Jastram Group of Companies.
In addition to his experience in the manufacturing industry, Meyer has served in numerous business leadership roles, including CEO of Meridian Fuel Technologies, director of business development at Phase Technology and a position with Citigroup Private Bank.
"After conducting a very comprehensive search, I am very confident that Frank is the right person to lead our compression business," says Andrew J. Littlefair, president and CEO of Clean Energy. "Frank has an enormous amount of expertise and is highly respected within the manufacturing industry. I look forward to working with him as we continue to drive innovation and growth in the natural gas compression industry."
As reported, Meyer currently serves on the board of directors of the British Columbia Institute of Technology and is a voting member of ASTM International.