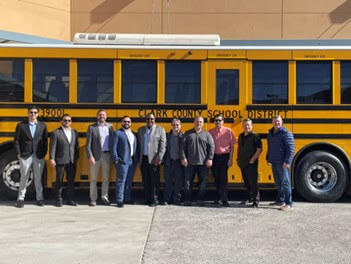 The Clark County School District (CCSD) in Nevada has ordered 15 Type D all-electric, purpose-built BEAST school buses from GreenPower Motor Co. Inc. through dealer RWC Group.
BEAST is a 40-foot bus with seating for up to 90 passengers. Designed from the ground up, the BEAST features an integrated chassis with an all-aluminum body, allowing for pass-through storage underneath the bus. Dual-port charging is standard, with Level 2 rates up to 19.2 kW and DC fast-charging rates up to 85 kW. Wireless charging is also available as an option.
The 15 buses will be purchased using funding from the Environmental Protection Agency's (EPA) Clean School Bus Program, awarded to school districts meeting the criteria for the purchase of new electric buses and infrastructure.
"Clark County is an innovative and forward-thinking school district that leads the country in the transition to all-electric school buses," says Michael Perez, GreenPower's vice president for school bus, contracts and grants. "We are honored to have our purpose-built BEAST school buses as the foundation of Clark County's transition."
CCSD is the fifth-largest school district in the country, and it operates the country's largest owned-and-operated school bus fleet, with 1,924 buses transporting 125,000 students daily.