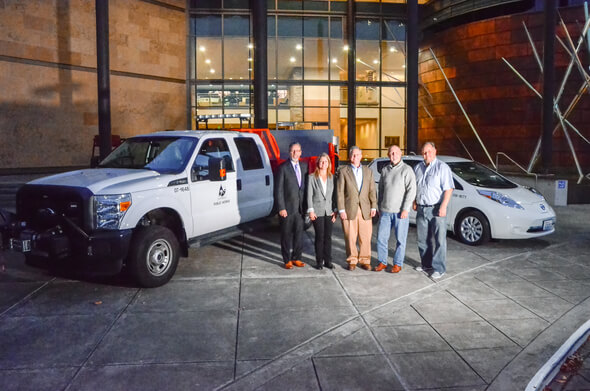 The City of Redmond, Wash., council and staff recently celebrated the accomplishments of moving to more alternative fuel vehicles within the municipal fleet.
According to a press release, a new vehicle showcase and ceremony took place in front of City Hall earlier this week. The recent addition of four electric vehicles, including two plug-in hybrid Ford Fusions and fully-electric Nissan Leafs, will replace older fleet vehicles.
"The addition of the new electric vehicles further emphasizes the commitment we have to creating a more sustainable environment," said Council President Hank Margeson. "We believe it is important to continue to do our part to help reduce the City of Redmond's carbon footprint."
The release says the city government purchased its first hybrid, a Toyota Prius, in 2005. Since then, 28 more hybrids have replaced older sedans. While hybrids continue to be an important part of greening the city's fleet, a more intense effort is being made to add propane and electric vehicles into the mix.
According to the release, 10 trucks and vans have been converted to a propane autogas bi-fuel system. In less than a year, this displaced 4,447 gallons of gas, resulting in the reduction of 14,886 pounds of CO2 emissions. Additionally, because propane is less expensive than unleaded gasoline, the release says this also saved $8,954 in fuel costs.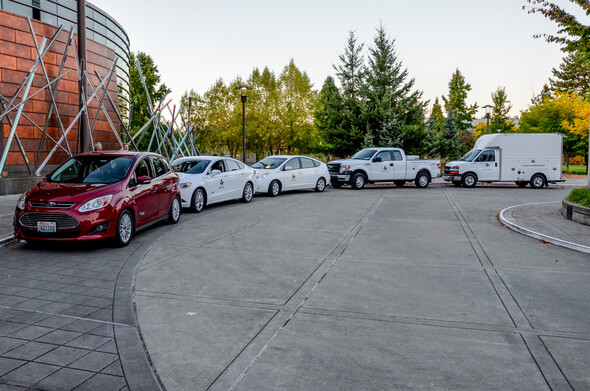 The continued effort to green the city fleet helps reduce greenhouse-gas emissions, reduce the city's operational carbon footprint and provides fuel cost savings. In June, Redmond received the Annual Best Achievement in Propane Autogas award from the Western Washington Clean Cities.
Photos courtesy of the City of Redmond