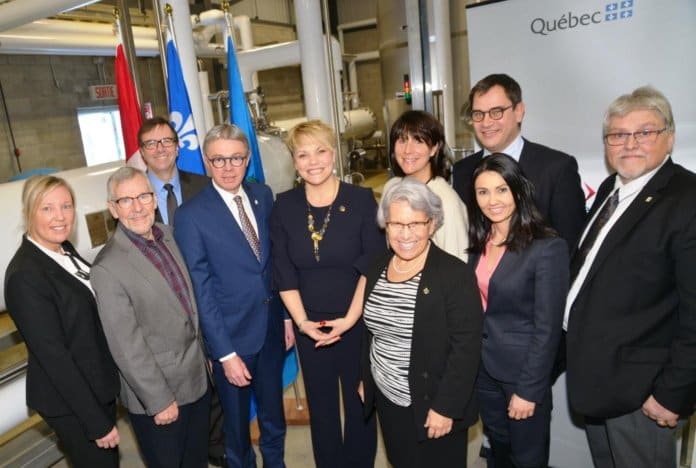 The City of Saint-Hyacinthe, Quebec, has announced that its biomethanation plant has entered full service, along with the injection of the renewable natural gas (RNG) produced there into energy company Énergir's distribution network.
According to Énergir (formerly Gaz Métro), this step marks the culmination of an investment project totaling C$80 million, C$42.2 million of which comes from the Government of Quebec and C$11.4 million from the Government of Canada. The City of Saint-Hyacinthe rounded out the financing with a contribution of nearly C$27 million.
The announcement was made in the presence of various representatives, including from the provincial and city governments, Énergir, L'Oréal Canada, and numerous other surrounding towns whose organic materials are being recycled at the city's organic waste reclamation center.
According to Énergir, this is the first municipal biomethanation project in the province of Quebec, and the RNG from it will be injected into the Énergir network. For its part, L'Oréal Canada – whose production and distribution centers in the Saint-Laurent borough of Montréal are carbon-neutral – is becoming Énergir's first customer to purchase RNG produced in Saint-Hyacinthe.
Énergir says the Saint-Hyacinthe biomethanation plant will produce 13 million m3 of RNG per year. The biomethanation complex's full entry into service will make it possible to recycle nearly 200,000 tons of organic waste from 25 towns and agrifood businesses in the region, which is expected to lead to an annual emissions reduction of 49,000 tons of greenhouse-gas GHG) emissions. Using RNG, L'Oréal Canada is anticipated to each year avoid emitting more than 2,100 tons of GHGs into the atmosphere.
The announcement resulted from a 2014 framework agreement in which the City of Saint-Hyacinthe committed to inject surplus RNG produced at the biomethanation plant beyond that consumed by the municipality into Énergir's network for a minimum period of 20 years. The city uses the RNG for heating its municipal buildings and to fuel its fleet of vehicles that run on natural gas.
Énergir says it did its part by building the infrastructure needed to inject the RNG into its distribution network, linking RNG producers and consumers.
"Énergir has been active in encouraging the development of renewable natural gas since its production in Quebec began, making it available to as many customers as possible. We're proud to have worked with the City of Saint-Hyacinthe to make this first major biomethanation project a reality, as an alternative to burying waste," says Sophie Brochu, president and CEO of Énergir. "This project also actively contributes to achieving our collective goals of reducing GHG emissions and fits in with Quebec's 2030 Energy Policy."
"Saint-Hyacinthe is proud to be one of the first cities in North America to recycle its organic materials through biomethanation," says Mayor Claude Corbeil. "This is a good example of the circular economy, as citizens and local agrifood companies send their organic materials to the biomethanation facility, which turns them into renewable natural gas. The gas is then used by the city to fuel its fleet of municipal vehicles and to heat its buildings. Surplus RNG is sold to Énergir as an offset that will help improve the services offered to our citizens. For 2018, revenue is projected to be C$5.8 million for the entire biomethanation process. Saint-Hyacinthe is a pioneer and has shown once again that it is a true home of innovation."
Isabelle Melançon, Quebec's minister of sustainable development, environment, and the fight against climate change, adds, "How proud we are to see this wonderful project completed here in Quebec. We should all laud the commitment of Énergir and L'Oréal, two world-class businesses that are helping to build this new lower-carbon economy. With the renewable natural gas industry, we have a concrete example of the circular economy, showing that it's possible to combine economic and social development with environmental protection. Recycling our organic waste represents one more step toward a zero-waste society, the kind of society we want to hand down to our children."
Photo courtesy of the City of Saint-Hyacinthe's Twitter page