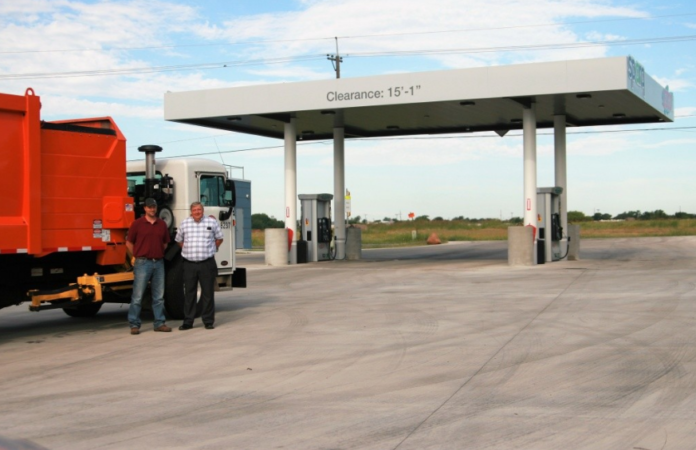 Having recently celebrated six months of operation at its first compressed natural gas fueling station, the City of Lawton, Okla., is now set to purchase six additional CNG vehicles within the month and has plans to complete an entire fleet of CNG sanitation trucks by 2022.
Dennis Bothell, equipment maintenance superintendent for Lawton, tells NGT News that the city's one and only fueling station, located at 2098 SW Sixth Street, was developed through a public/private partnership between Carey Johnson Oil Co. (EZ-GO), Sparq Natural Gas and the City of Lawton.
Bothell explains that EZGO carried out the construction, Sparq provided natural gas fueling expertise, and the city provided the land for both the public fast-fill use area and the time-fill area for the city fleet.
Construction on the station began in October 2016 and was finished within 90 days. The facility opened for use in January 2017.
The Lawton station features two Bauer high-output compressors systems, two CNG self-serve dispensers with four positions for public use, and 26 position time-fill stations for the city's fleet of CNG vehicles. Natural gas is provided to the facility by CenterPoint Energy of Oklahoma at a rate in excess of 100 psi.
As for financing, the station was funded by GoSparq, a company formed by EZGO and Sparq.
"The city had no out-of-pocket expenses, with the exception of the placement of fire hydrants in the time-fill area of the station," Bothell notes.
According to Bothell, the city began studying the possibilities for alternative fuels more than a decade ago.
"The question we asked was, 'What type of fuel do we need, and how do we fund the project?'" he says.
A few years ago, diesel fuel prices rose to almost $4/gallon, effectively doubling the cost to operate the city fleet of diesel vehicles. Bothell explains that the city needed an alternative fuel that would "support the city's responsibilities to the community and offer a clean, readily available fuel, at a more affordable price."
"CNG was a viable, clean energy resource that we like for three reasons: It was environmentally friendly, we had an abundant supply of it here in the state, and we could help the country reduce our dependency on foreign oils," he says.
As it stands, the City of Lawton currently owns and operates three CNG and gasoline bi-fuel pickup trucks and three CNG garbage trucks. The Lawton Police Department uses the pickups at the city's lake patrol division, and the sanitation department operates the automated side-load garbage trucks.
According to Bothell, the city will add six more CNG-powered vehicles to its fleet this month and, looking ahead, intends to purchase additional support vehicles and equipment as funds become available.
While specific details are still to come, Bothell says the city will undoubtedly continue its transition to the cleaner-burning, cost-effective natural gas fuel: "The direction I have been given by the city manager and the Lawton City Council for replacement vehicles is to purchase as many CNG vehicles as possible in the future."