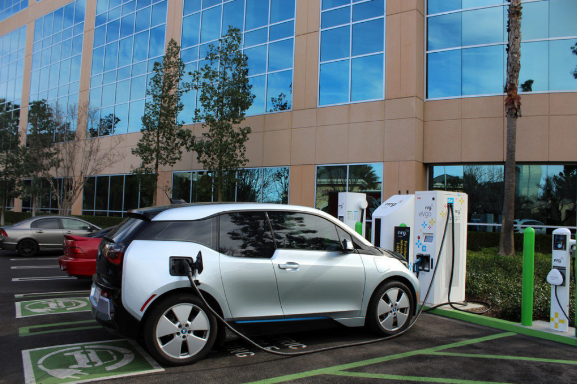 With sales of electric vehicles (EVs) on the upswing in 2016, the Chicago Department of Transportation (CDOT) has announced that it is hosting two webinars later this month for people who are interested in opening DC fast-charging stations in the Chicagoland area.
As reported, CDOT and the City of Chicago are partnering on the federally funded Drive Clean Station Program with CALSTART, a nonprofit organization dedicated to accelerating the growth of green transportation alternatives.
"CDOT and the administration of Mayor Rahm Emanuel strongly support sustainable transportation options, and we are pleased to be working with CALSTART to increase the number of electric vehicle charging stations in the Chicago area through the Drive Clean Station program," says CDOT Commissioner Rebekah Scheinfeld.
CDOT will host two Drive Clean Station informational webinars at 10 a.m. on Feb. 23 and Feb. 28.
According to the city, the program offers a subsidy through the federal Congestion Mitigation and Air Quality (CMAQ) Improvement Program and is open to all private, public and nonprofit entities interested in offering DC fast charging to the public in the six-county region of northeastern Illinois, which includes Cook, Will, DuPage, Kane, Lake and McHenry counties.
Applications will be reviewed and awarded on an ongoing basis until July 31, or until all funding has been awarded.
Projects selected will receive grant funding for up to 30% of their new station equipment and installation costs. Grant funds will be provided after all work is completed, all project costs are paid and the station is operational.
Adding 80 miles of range to an EV can take hours using Level 1 and 2 stations; DC fast charging can add 80 miles to a Nissan Leaf in about 30 minutes. DC fast chargers can enable more EV trips and support EV owners who live in multi-unit dwellings. There are currently 34 DC fast chargers in the Chicago region, and most current EVs are offered with DC fast-charge capability.
Drive Clean Chicago is funded through an $800,000 CMAQ grant and is supported by the Chicago Metropolitan Agency for Planning and the Illinois Department of Transportation.