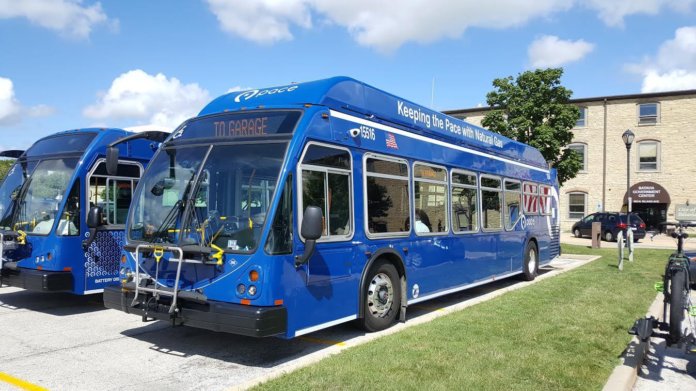 Pace Suburban Bus has been named Clean Fuels Champion by Chicago Area Clean Cities (CACC), a nonprofit coalition dedicated to promoting clean vehicles and clean air solutions for transportation in the Chicago area.
Pace provides public transit services to the residents of 284 municipalities in Cook, Will, DuPage, Kane, Lake and McHenry counties, covering nearly 3,500 square miles and serving several tens of thousands of daily riders.
In 2018, Pace completed a compressed natural gas (CNG) station and facility build-out to support its recent deployment of 91 CNG buses, operating out of its South Division in Markham, Ill. Of the 63 public transit agencies in Illinois, Pace is now one of only three to use CNG buses, according to CACC.
"We're thrilled to be recognized as a Clean Fuels Champion by Chicago Area Clean Cities," says Pace's chairman, Rick Kwasneski. "Our new fleet of clean, low-emissions CNG buses reduce air pollution without sacrificing performance. Our drivers and our customers love them.
"This is a part of Pace's vision of being a good steward of our environment," Kwasneski continues. "We also recently launched a fleet of buses that use ultra-low-sulfur diesel fuel to reduce emissions. Combined with our fleet of CNG vehicles, we're making our buses greener and improving air quality throughout the Chicagoland area."
The Regional Transportation Authority (RTA) teamed up with the Illinois Department of Transportation and Pace to help arrange $49 million in capital funding to allow Pace to purchase the new CNG buses. The buses are anticipated to save $1.5 million per year in fuel and maintenance costs versus their diesel predecessors. Further, in 2019, Pace is adding at least six more CNG buses.
Pace was awarded today at Chicago Area Clean Cities' annual meeting at the Chicago Auto Show. The award has been given annually since 2001 to an individual, organization or business that champions the promotion of alternative fuels and technologies to reduce vehicle emissions and reduce petroleum usage. Recent award recipients included the American Lung Association, the Chicago Metropolitan Agency for Planning, Testa Produce and Ozinga Bros. Inc.
"Pace's use of alternative fuels to reduce emissions in their fleet of transit buses is to be commended," says John W. Walton, chair of CACC. "Their use of CNG to power buses is an example of a long-term cost-effective solution for improving air quality and reducing harmful vehicle emissions. It's a pleasure to honor the Pace team with this award."
At the awards ceremony, CACC also named its Green Fleet Leadership Award winners. Those awarded include ComEd, the Chicago Park District, the City of Chicago, the Village of Downers Grove, Waste Management, Nicor Gas, Schwan's, the Chicago Transit Authority and United Parcel Service. Jones Lang LaSalle/Aon and Prudential Towers received the coalition's All-In Award, recognizing its all-electric shuttle bus fleet.