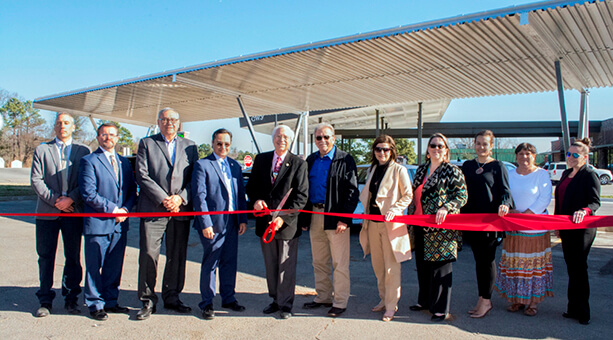 The Cherokee Nation held a ribbon-cutting ceremony at the tribe's headquarters in Tahlequah, Okla., on Tuesday to celebrate the first tribal solar canopy car charging station built in Oklahoma.
According to a press release, the Cherokee Nation's new charging station is located in the main parking lot of the W.W. Keeler Tribal Complex. It is capable of charging up to eight electric vehicles (EVs) and also provides about 58,000 kWh of electricity to the tribal complex each year, equivalent to the amount of electricity needed to power three or more homes.
"Embracing solar panels and adding electric vehicles to our fleet is consistent with Cherokee Nation's leadership in clean-energy usage and carbon-footprint reduction," said Cherokee Nation Principal Chief Bill John Baker. "Cherokee Nation is the first tribal government in Oklahoma to build and utilize a solar canopy like this. We have always been good stewards of the land, and this is another example of exceptional natural resource conservation, a legacy established by our ancestors. Additionally, the structure's design enhances the beautification efforts we have made at the tribal complex."
Construction costs for the solar canopy totaled around $300,000 through a partnership between Cherokee Nation and the Bureau of Indian Affairs.
"The new solar canopy provides a convenient power source for electric vehicles and also provides clean power to the Cherokee Nation complex," said Cherokee Nation Secretary of Natural Resources Sara Hill. "I'm proud that Cherokee Nation is able to provide this option to our employees and citizens while also honoring our obligation to act as good stewards of our natural resources."
Cherokee Nation citizen Ben Phillips, of Fort Gibson, works at the tribal complex in Tahlequah and has driven a hybrid car for four years. He initially chose the EV for its technology and low maintenance and now uses the charging station daily, which saves time and money he would otherwise spend on gasoline.
"It's exciting to see the tribe committed to green, renewable energy," Phillips said. "I think it will be a win-win for the tribe and employees who commute to work every day. I have already noticed a flood of questions about electric vehicles and how they work and believe it will be a great opportunity to educate people about EVs and sustainable energy."
The Cherokee Nation purchased its first two 100% electric-powered Nissan Leaf compact cars in October. The Leafs can travel about 107 miles on one charge and produce zero emissions.
Following Tuesday's ribbon-cutting, the tribe hosted a ride-and-drive event. Aside from test-driving the new Nissan Leafs, employees were invited to drive EVs owned by utility OG&E and Auffenberg Chevrolet in Muskogee.
Francis Renewable Energy (FRE) of Tulsa was the contractor for the solar canopy charging station.
"The trend we're seeing is an appetite for parking canopies, and it's not just tribes and other governments," said FRE President David Jankowsky. "There's federal tax credits available, and when you take advantage of them, they practically pay for the structure, so we're going to start seeing a lot more of these solar canopy charging stations in Oklahoma."
The solar canopy and addition of EVs to the Cherokee Nation fleet are part of the tribe's recent initiative to reduce carbon emissions. Other environmentally friendly initiatives include the tribe leasing land to a company for the development of a wind energy farm on Cherokee Nation trust land in Kay County.
Photo and news item courtesy of the Cherokee Nation