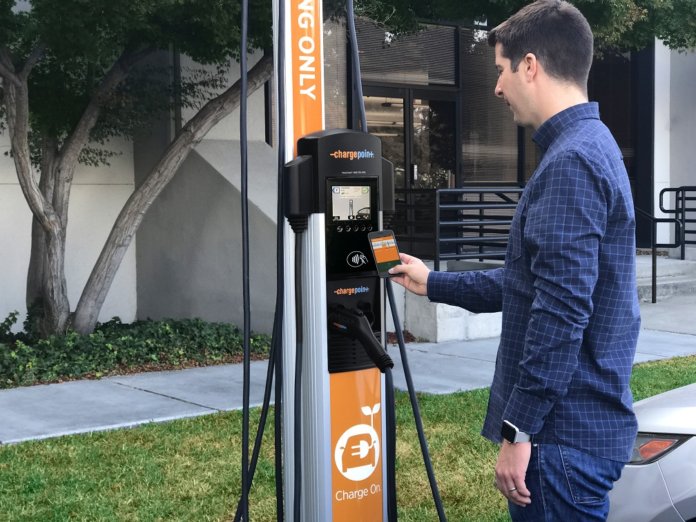 Electric vehicle (EV) charging network ChargePoint Inc. says it has rolled out the ability for drivers to initiate the charging process on any EV by tapping an iPhone, Android Phone or Apple Watch on any ChargePoint charger.
The new "tap to charge" feature works at more than 40,000 ChargePoint charging spots in North America, the company says. An EV driver can find places to charge on a variety of charging networks via the ChargePoint app.
"ChargePoint is committed to getting every driver behind the wheel of an EV, and a major part of achieving that goal is making it as easy as possible for drivers to charge," says Colleen Jansen, chief marketing officer for ChargePoint. "The ownership experience is key to broader EV adoption, and trailblazing features like tap to charge make fueling your EV much more simple and convenient than the gas vehicle it likely replaced."
To use tap to charge, drivers with Android version 4.4 or higher simply enable NFC, log in to the ChargePoint app, unlock the phone screen and tap their phone on the station to charge. Drivers with iPhone 6 or higher or Apple Watch create a ChargePoint Pass by pressing "Add Pass to Apple Wallet" in the ChargePoint app, then place their finger on Touch ID and tap the phone on the station to charge. Apple Watch owners just double-click the side button and hold the watch near the contactless reader.
The company notes that it takes just minutes to set up a free ChargePoint account and start charging right away with tap to charge. In addition to using tap to charge, drivers can charge using a free ChargePoint RFID card (available with account setup) or by pressing the "Start Charge" button in the app.