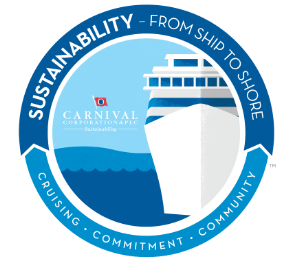 Carnival Corp., a leisure travel company, has released its 2016 sustainability report as part of the launch of its new dedicated sustainability website.
The report and complementary site detail the company's sustainability efforts and the progress made in 2016 toward its 2020 sustainability performance goals, including its commitment to liquefied natural gas (LNG) as a marine fuel.
In 2015, Carnival announced its 2020 sustainability goals, establishing 10 goals for reducing its environmental footprint and promoting sustainable business practices among its brands, business partners and suppliers.
The 2016 report and website, Sustainability from Ship to Shore, confirm the company is ahead of schedule on reducing its carbon intensity and is on track to meet its additional sustainability goals during the next three years across its 10 cruise brands.
"We take our commitment to sustainability and the environment very seriously and take proactive measures to ensure that sustainability is ingrained in the core of our business practices," says Bill Burke, chief maritime officer for Carnival Corp., whose cruise lines sail to more than 760 ports around the world. "Our top priority is to consistently exceed our guests' expectations for a great cruise vacation – and that includes providing an exceptionally safe, comfortable and enjoyable environment for our guests and crew members while, at the same time, maintaining our deep commitment to protecting the oceans, seas and destinations we visit."
Burke continues, "We have a great team of employees, most of whom work and live at sea, and we all understand a healthy environment is not just an operating necessity, but it is also the right thing to do. We want our guests to be confident that when they book a cruise vacation with one of our brands, they are doing so with a responsible global corporate citizen."
Notable progress made by Carnival in 2016 that is highlighted in the report are the following:
Being ahead of schedule in achieving a nearly 25% reduction in CO2e (equivalent carbon dioxide) relative to the 2005 baseline;
Pioneering the use of LNG and introducing the first cruise ship ever fueled with LNG from trucks while in port;
Continuing to make progress in installing exhaust gas cleaning systems, which significantly improve air emissions by reducing sulfur compounds and particulate matter from engine exhaust – by the end of 2016, 59% of the fleet was equipped with the systems (and a larger percentage is equipped with the systems as of today); and
40% of the fleet was equipped with cold ironing capabilities by the end of 2016, which allows ships to use an alternative power source while in port.
Specifically, the report explains that the company pioneered the use of LNG with the introduction of the AIDAprima in 2016. As the company claims, AIDAprima is the first cruise ship in the world with a dual-fuel engine that can be powered by LNG while in port.
The company says it will continue its efforts to pioneer use of this clean-burning fuel with seven next-generation ships on order that will be powered by LNG while in port and at sea. Carnival also signed an agreement with Shell to supply LNG.
Click here for more.