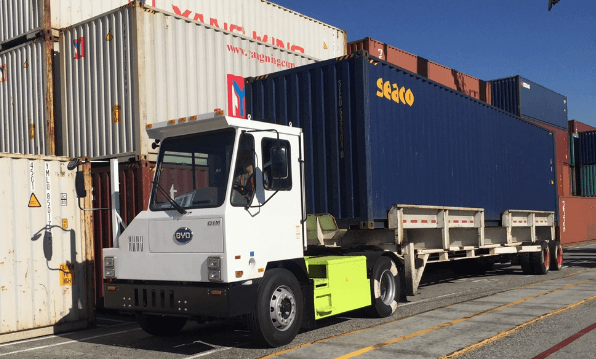 The California Air Resources Board (CARB) has announced that the state of California, the San Bernardino Council of Governments (SBCOG), and partners Daylight Transport and BYD will gather together this Friday, March 10, to celebrate the arrival of the first of 27 next-generation, zero-emission electric yard and service trucks.
As reported, the first of the battery-electric yard and service trucks, provided by BYD Motors, will be delivered to the Daylight Transport freight-handling service center in a disadvantaged community within the city of Fontana. More electric trucks are to be delivered this summer to BNSF rail yards in San Bernardino and Los Angeles.
The project is paid for, in large part, by a $9.1 million grant awarded to SBCOG from CARB through California Climate Investments, a statewide program that puts billions of cap-and-trade dollars to work reducing greenhouse-gas emissions and improving public health and the environment – particularly in disadvantaged communities.
During the event, taking place at the Daylight Transport Service Center at 11160 Elm Ave. in Fontana, CARB says there will be demonstrations of the fully electric 80,000-pound (GCVWR) yard truck and the 16,100-pound (GVWR) service truck both operating and being charged.
According to CARB, this demonstration project will accelerate the commercialization of heavy-duty advanced, zero-emission technologies as part of a larger pilot program to test this technology in daily use.
The agency adds that the following representatives will be in attendance: Joshua Monzon on behalf of Sen. Mike Morrell; Jordan Gurnett on behalf of Assemblymember Marc Steinorth; CARB Vice Chair Sandy Berg; SBCOG Board President Robert Lovingood; Daylight Transport Executive Vice President Greg Steele; San Bernardino County Supervisor Janice Rutherford; Fontana Mayor Acquanetta Warren; and BYD Vice President of Truck Sales Andy Swanton.