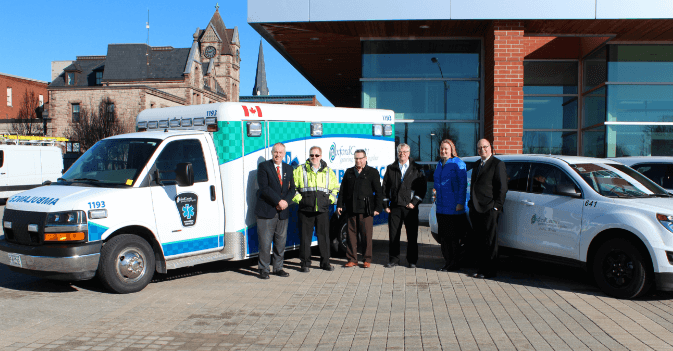 Oxford County in Ontario has begun incorporating new technology – including compressed natural gas (CNG) and fully electric vehicles (EVs) – into its fleet in an effort to reduce greenhouse-gas emissions.
Specifically, the county says that the new technology will help achieve a projected 6.2% reduction in CO2 emissions this year.
The new developments include the following:
CNG vehicles – Three of the county's light trucks have been converted to hybrid gasoline/CNG, with another 15 to be converted before the end of the year.
Dedicated CNG snow plows – In researching the potential for a fully CNG vehicle, it was determined a tandem snow plow would be the best application. Later this year, Oxford County will become the first municipality in Ontario to have a CNG snow plow clearing roads next winter.
Anti-idling ambulances – In 2016, Oxford County Paramedic Services piloted anti-idling equipment in two ambulances. The Eco-Run Anti-idling "Stop-start" system shuts down the engine when it is stopped and is under ideal operating conditions, effectively conserving fuel and reducing CO2 emissions. Ambulances purchased in 2017 will include this technology.
Full EV – After successfully introducing a Chevrolet Volt hybrid EV into the fleet, Oxford County is taking the next step in purchasing a fully electric Chevrolet Bolt this year. The EV will be used by the county's water division.
As reported, these new fleet enhancements are projected to reduce the county's CO2 emissions by to 1,706 tons in 2017 and will put the county fleet on track to achieve a 10% reduction by 2019.
Moving forward, the county is planning to introduce an Idling Policy for staff while engaging ambulance manufacturer to produce an electric hybrid model to help in reducing emissions.
"Oxford County is putting the pedal down on a number of exciting initiatives this year when it comes to green vehicle technology," says Melissa Abercrombie, manager of roads and facilities for Oxford County Public Works. "So far, the reviews have been excellent on our compressed natural gas light truck conversions. Staff are not noticing any difference in the performance of the vehicles when running on natural gas.
"We're also really excited about becoming the first municipality to have snow plows running on compressed natural gas later this year," she continues. "All the while, moving towards a 6% reduction in carbon emissions this year is a great first step in greening the county's fleet."
Photo courtesy of Oxford County – In photo from left to right: David Mayberry, Warden; Mike Maycock, field supervisor, Oxford County Paramedic Services; Mark Shulman, Rural Green Energy; Ben Addley, manager of Oxford County Paramedic Services; Melissa Abercrombie, manager of roads and facilities, Oxford County; and Peter Crockett, CAO, Oxford County.