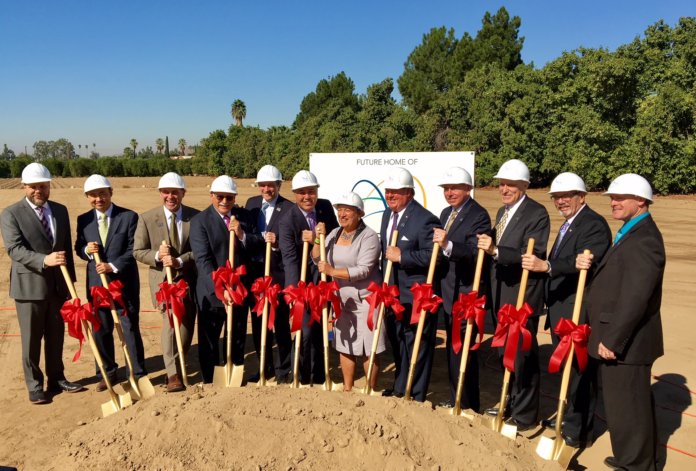 On Friday, the California Air Resources Board (CARB) broke ground on its new state-of-the-art Southern California headquarters in Riverside, Calif. According to the state agency, the 380,000-square-foot building will be home to one of the largest and most advanced vehicle emissions testing and research facilities in the world.
The new structure, designed to house research and testing of next-generation vehicles, continues a more than 50-year legacy of CARB's previous labs, where CARB set pollution standards for cars and trucks and helped uncover the diesel engine cheating violations by Volkswagen, commonly known as "dieselgate."
Federal, state and local officials spoke at the event before a large audience.
"The challenges of a changing climate include rising temperatures that undermine our progress toward healthy air and compel us to look for new technologies and new policy approaches," said CARB Chair Mary D. Nichols. "With a major new Southern California facility, building on 50 years of success, CARB will be positioned to continue to lead the fight for clean air into the future."
The groundbreaking, organized with support from the City of Riverside, County of Riverside, Greater Riverside Chambers of Commerce and UC Riverside, took place on the 19-acre Iowa Avenue site of the new building.
"This is a momentous day in Riverside as we break ground on a project that will not just create quality jobs, but also attract additional attention from companies that want to be near the CARB facility," said Mayor Rusty Bailey. "More than 60 years ago, UCR opened its doors and changed the face of Riverside, and this project continues the momentum of knowledge-based innovation in Riverside."
According to CARB, the new headquarters will be LEED Platinum, the highest level awarded by the U.S. Green Building Council for the overall sustainability and energy efficiency of a building. The headquarters is also expected to be among the largest net-zero energy structures in the nation, in terms of square footage and load. (That means it will produce as much energy as it uses.) Solar panels affixed to roofs and walls, and panels over the parking area, together will supply at least 3.5 MW of electricity. Adjacent parking will include at least 120 charging stations for electric vehicles.
The new headquarters will include light-, medium- and heavy-duty test cells, with additional space for creating new testing methods for future generations of vehicles. There also will be space for enhanced onboard diagnostics and portable emissions measurement system development and a separate chemistry laboratory. Planned office and administration space will accommodate about 460 employees. In addition, there will be a formal reception area, media center, and a 250-person auditorium with an adjacent conference room for overflow for board meetings, workshops or other events.
CARB chose the site near the University of California, Riverside, in March 2016 and completed environmental studies in June 2017. Construction costs of $419 million, which include $108 million for specialized laboratory and testing equipment, were approved by the state legislature in July. Of those costs, $154 million comes from fines paid by Volkswagen for air quality violations related to the diesel car cheating case. Additional funds will come from the Motor Vehicle Account, the Air Pollution Control Fund and the Vehicle Inspection Repair Fund.
Currently, CARB and other state officials are in the process of choosing the contractor to design and build the new headquarters, based on established state contracting process and rules. Construction is slated to begin in February.