Taking California's climate push to the global stage, Gov. Edmund G. Brown Jr. met with President Xi Jinping of the People's Republic of China and signed an agreement with China's Minister of Science and Technology to deepen cooperation on the development of green technologies, including those for clean transportation.
Brown met with Jinping yesterday at the Great Hall of the People in Beijing.
"California is the leading economic state in America, and we are also the pioneering state on clean technology, cap and trade, electric vehicles, and batteries, but we can't do it alone," Brown said during his meeting with Jinping. "I have proposed that California will cut its greenhouse gases 40 percent below 1990 levels and that we'll have 50 percent of our electricity from renewables. To keep that goal, we need a very close partnership with China – with your businesses, with your provinces, with your universities."
The agreement on behalf of California builds on two sub-national pacts on green technology that Brown signed earlier this week with the Sichuan and Jiangsu provinces.
Specifically, this agreement expands cooperation on the advancement of low-carbon, renewable energy and energy-efficiency technologies, such as zero-emission vehicles, energy storage, grid modernization and low-carbon urban development.
Under the agreement, California and China will also deepen their partnership and coordination on greenhouse-gas emission and air pollution reduction programs, including emissions trading systems and carbon capture.
Later, Brown spoke at a Clean Energy Ministerial forum focused on electric vehicles and spoke at a Clean Energy Ministerial event organized by the Energy Foundation on the economic transition to clean energy.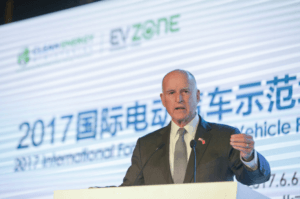 Today, Brown opens the Under2 Clean Energy Forum, which he is co-hosting with China's Ministry of Science and Technology and Sichuan Province. This event expands on the Clean Energy Ministerial by bringing together members of the Under2 Coalition and businesses to drive sub-national and non-state action to decarbonize the economy and curb climate change.
As reported, the forum builds on the event Brown launched last year in San Francisco during the Clean Energy Ministerial.
The Under2 Coalition – an international pact among cities, states and countries committed to limiting the increase in global average temperature to below 2 degrees Celsius – now includes 170 jurisdictions on six continents. These members collectively represent more than 1.18 billion people and $27.5 trillion GDP – equivalent to 16% of the global population and 37% of the global economy. Among the coalition members are 10 U.S. states and eight U.S. cities that together account for nearly one-third of America's population and GDP.
Photos courtesy of the Office of Gov. Edmund G. Brown Jr.