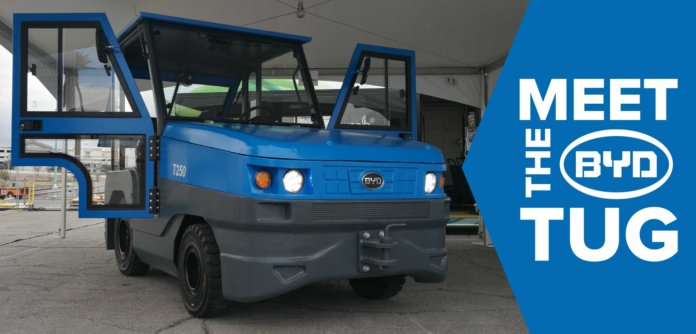 BYD (Build Your Dreams) recently unveiled two new electric tow tractor models designed for airport ground support equipment needs.
With a 25-ton towing capacity, BYD's T250, a rear cabin tug, and the T250F, a forward cabin tug, are heavy-duty solutions for both luggage transport and towing of regional jets. Using BYD's proprietary iron-phosphate battery technology, the tugs are equipped with a fast charger integrated into the tractor.
"These tugs are a tremendous opportunity to help transform the high-pressure, high-duty
cycle operations with customers requiring around-the-clock uptime," says Brian Rippie, BYD's director of material handing. "We have already delivered forklifts to Hawaiian Airlines and United Airlines."
The solution provides the chassis, battery and charger from one source. The average BYD tug can fully charge in two hours, the company says.
"BYD continues to grow our North American practice and meet the increasing client
demand for quality electric transportation, especially in the heavy-duty truck and
vehicle industry," notes Stella Li, president of BYD. "Our model proves that going green
can be good for the economy, good for workers and good for America."