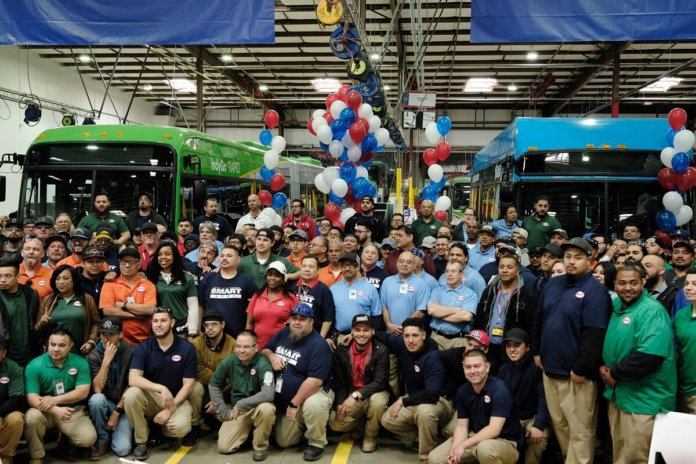 Electric vehicle maker BYD (Build Your Dreams) has it produced its 300th bus at its Lancaster, Calif., manufacturing plant.
The 300th bus is a 35-foot BYD K9S transit bus. The vehicle is one of three built for Baton Rouge's Capital Area Transit System. The agency will field-test the use of electric buses in Baton Rouge and study how the vehicles could be used on routes in Louisiana's capital.
"We are very proud of this 300th American bus milestone. We are passionate about our mission to create a cleaner environment here in North America and across the globe," says Stella Li, BYD's President.
"BYD has continuously shown its dedication to our community and region at-large since establishing its North American manufacturing facilities here in Lancaster," comments R. Rex Parris, mayor of Lancaster. "Along the way, BYD has established itself as the gold standard in the battery electric bus transportation industry. In fact, our local Antelope Valley Transit Authority (AVTA) will very soon have a 100 percent all-electric bus fleet."
AVTA was one of BYD's first customers. In 2016, the AVTA board set a goal of becoming the nation's first all-electric fleet and vowed to convert all of its aging diesel buses. AVTA expects to achieve that conversion milestone later this year.
When BYD opened its Lancaster manufacturing plant in 2013, it had a handful of employees working on 10 buses in a 106,000-square-foot building that once housed a motorhome manufacturing facility.
In six years, BYD has grown to more than 750 employees. Since acquiring its current facility, BYD has increased its manufacturing plant to over a half million square feet, with the capacity to produce as many as 1,500 buses a year.
In total, BYD has invested more than $250 million in North America, and in 2018 alone, it spent $70 million on components and services from American vendors – many from Southern California.
"We knew our technology could make a real difference here, but we also knew that investing in an emerging North America electric vehicle market was a risk," Li adds.
Since the delivery of its first U.S. battery-electric bus in 2014, BYD has provided buses to customers in 13 states and four Canadian provinces.
"Because public transportation accounts for a vast portion of air pollution, BYD strategically moved to first help replace buses and commercial trucks across North America," states Bobby Hill, BYD's vice president of coach and bus for North America. "And to do so, we wanted to offer multiple zero-emission-model choices to meet the various demands in the market and to make the transition as easy as possible."