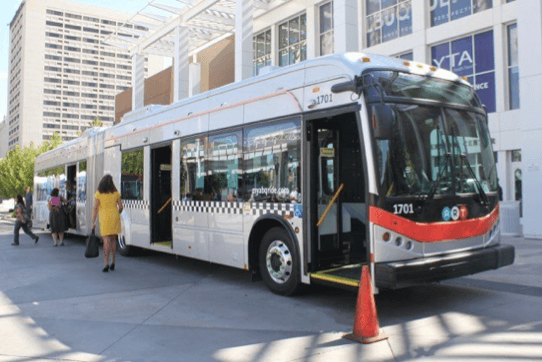 Electric vehicle manufacturer BYD has joined together with the city of Albuquerque to announce the delivery of its first all-electric 60-foot articulated transit bus to operate along the Albuquerque Rapid Transit (ART) route.
This delivery comes one year after Albuquerque announced it had chosen BYD as its manufacturer, and the delivery marks the first of 20 buses to be completed by the end of 2017.
"The selection of electric buses make the ART project an even more sustainable project for Albuquerque's future," says Mayor Richard Berry. "Careful deliberation has gone into the selection process, and it was found that these buses are the best fit with the most dynamic benefits for the city of Albuquerque and the ART project.
"ART will not only have a lasting positive impact on improving transit options in Albuquerque, but with the selection of electric buses, it will also increase environmental efficiency and cost savings," he says.
Macy Neshati, senior vice president of BYD Heavy Industries, comments, "ART has taken the lead by making the responsible choice with electric zero-emission buses and has shown other transit agencies can follow suit to meet their most important fiscal and environmental objectives. With this partnership, BYD continues to demonstrate strong municipal collaboration by providing smart transportation solutions for our communities."
With these new buses, ART will now see a 50% monthly savings on fuel and maintenance costs, contributing to greater stability for budget forecasting.
Further, it is estimated the city of Albuquerque will reduce its carbon footprint by more than 21,780 metric tons while also saving taxpayers $9.8 million in operational savings over the operational lifetime of the BYD electric buses.