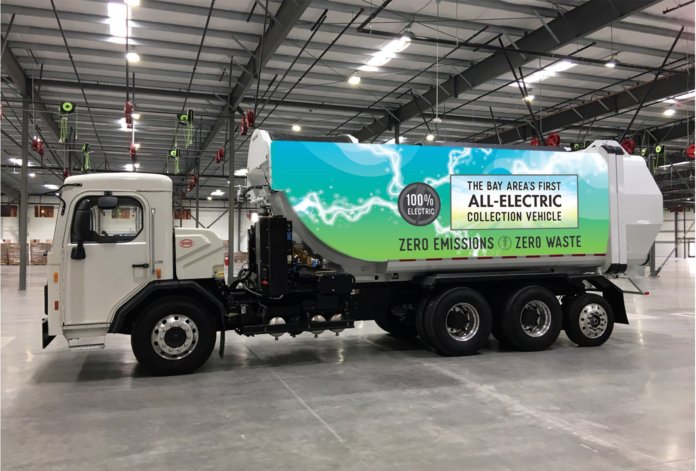 On Monday, electric vehicle manufacturer BYD delivered an all-electric automated side loader refuse truck to the City of Palo Alto, Calif., and GreenWaste, the city's waste hauler service. The BYD all-electric refuse truck was unveiled in a ceremony at City Hall with Palo Alto Mayor Greg Scharff, who praised BYD and GreenWaste for their efforts to bring the electric refuse truck to the Bay Area.
"I want to thank the manufacturer, BYD, and our refuse hauler, GreenWaste, for building and piloting the Bay Area's first all-electric refuse collection truck," said Scharff at the unveiling. "It will save 72 metric tons of greenhouse gas emissions a year and help us meet Palo Alto's ambitious goal of an 80 percent reduction in these emissions by 2030."
The BYD electric refuse truck uses its batteries for propulsion, as well as to power the hydraulic system for the body. According to the company, the truck has 76 miles of range and requires only two to three hours maximum to fully charge. The vehicle will operate on a variety of service routes in the community from urban to residential neighborhoods, including streets with steep inclines.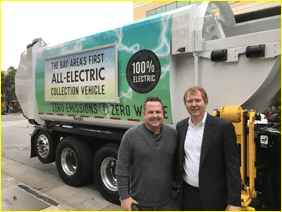 "BYD wants to electrify everything in transportation, and we see great potential for turning over diesel or natural gas refuse truck fleets to zero-emission, battery-electric trucks," said Andy Swanton, vice president of truck sales for BYD Heavy Industries. "This battery-electric refuse truck in Palo Alto will save GreenWaste tens of thousands of dollars annually in fuel costs while completely eliminating tailpipe emissions and operating quietly in residential neighborhoods. The benefits of operating this truck will be enjoyed by both the city and its residents and will begin to materialize almost immediately upon going into service."
According to BYD, GreenWaste and the City of Palo Alto will enjoy savings of more than $16,000 annually due to the truck's high-efficiency electric motors and controls, as well as less maintenance required for the propulsion systems, fewer fluids to change, less brake wear due to regenerative braking technology, and fewer moving parts overall. GreenWaste will monitor and collect data from the electric refuse truck's routes to determine if additional electric refuse trucks can be purchased in the future to replace its entire diesel truck fleet.
"GreenWaste of Palo Alto was so excited to partner with the City of Palo Alto and BYD to get this innovative truck out in the community," said Scott Scholz, general manager of GreenWaste of Palo Alto. "We are looking forward to studying all the environmental benefits this truck will bring as we continue to work toward an 80 percent reduction in greenhouse gas emissions by 2030. We look forward to seeing the entire Palo Alto community as we are out working with the new electric truck and will be ready to smile and wave as we pass by while making a little less noise."
Due to the stop-and-go nature and designated daily routes of refuse hauler operations, the refuse market represents a prime opportunity for vehicle electrification, according to BYD. Earlier this year, the company officially introduced its Class 8 heavy-duty electric refuse truck at the 2017 ACT Expo.