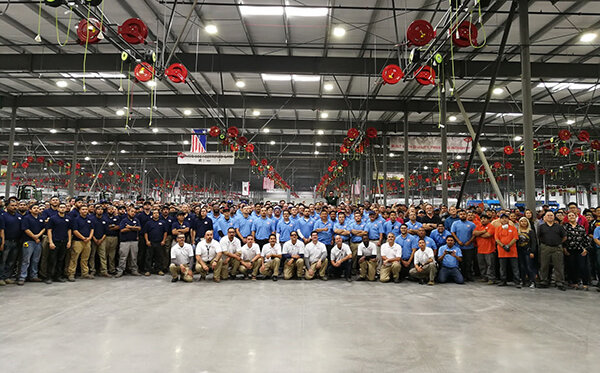 Joined by numerous elected officials on Friday, China-based BYD cut the ribbon on its expanded battery-electric bus manufacturing facility in Lancaster, Calif., where the company plans to hire hundreds of new workers and ramp up annual production.
According to a company press release, the grand opening celebration commemorated the addition of a new wing to the current BYD Coach and Bus space, bringing the total manufacturing facility to nearly 450,000 sq. ft. This expansion nearly quadruples BYD's facility from its initial 2013 footprint.
The company says the growth of BYD Coach and Bus reflects a rapid transition to electric transportation and will allow BYD to build up to 1,500 battery-electric buses annually. Since BYD established its U.S. electric bus manufacturing capabilities in Los Angeles County, the company has created nearly 800 full-time jobs throughout the state. This manufacturing facility expansion will enable BYD to hire up to 1,200 full-time workers at top production-line capacity.
BYD claims it is among North America's largest electric bus manufacturers, having delivered 137 electric buses in the U.S. and Canada, including more than 75 buses delivered in 2017. BYD says it is currently producing an additional 300 buses based on current customer orders and has options for more than 300 additional electric bus purchases.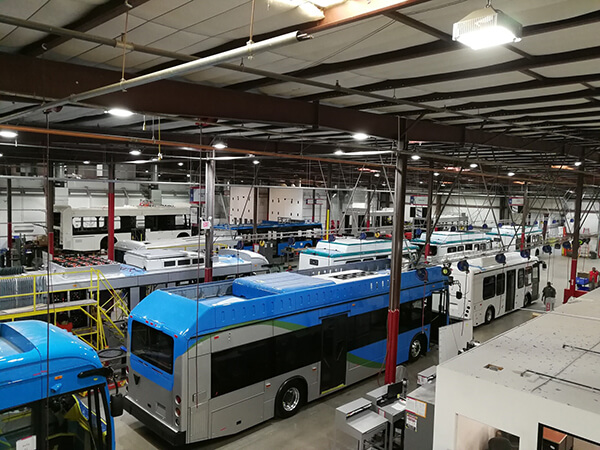 According to the release, the BYD Coach and Bus facility also supports R&D and assembly for BYD's battery-electric medium- and heavy-duty trucks, including delivery, drayage, refuse, and yard trucks, among other product lines. These trucks incorporate the same core components that are used in BYD's commercialized buses and vehicles. By the end of 2017, BYD says, the company will have delivered 70 all-electric trucks to 15 customers in North America, with orders for more than 140 trucks to-date.
The bipartisan group of officials on hand for the ceremony praised BYD for its local job creation and impact on the community as an employer that provides a pathway to career growth in the burgeoning clean energy sector.
"Our community has a strong tradition of innovation, and I am proud that BYD has chosen to expand their facility here in Lancaster," said U.S. House Majority Leader Kevin McCarthy, R-Calif. "As BYD continues to develop cutting-edge technology that helps transform the transportation industry here in the Antelope Valley and around the country, this investment will help create jobs in our community, keep Lancaster on the forefront of technological advancement, and put emission-free vehicles on our streets. I would also like to recognize Lancaster Mayor Rex Parris for his hard work and dedication to making our community a place where companies like BYD can grow and thrive."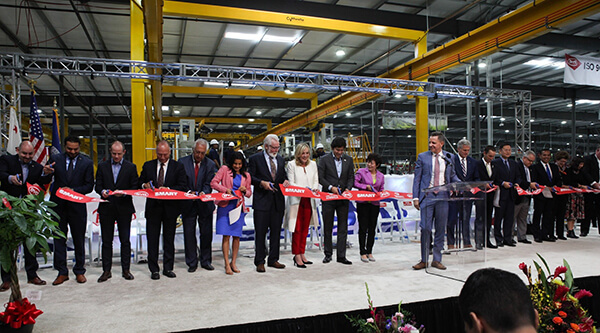 "The expanded BYD Coach and Bus manufacturing facility represents a fact I have stated for many years: Policies that address climate change and build a strong economy are not mutually exclusive," said California Senate President Pro Tem Kevin de Leon. "California's progressive leadership on strong air quality policies is helping drive this economic growth by creating demand for zero-emission buses and trucks."
U.S. Rep. Steve Knight, R-Calif., said, "Congratulations to BYD on the expansion of its Coach and Bus factory, which in turn will be creating hundreds of new, full-time jobs in the Antelope Valley."
"The City of Lancaster is proud to have paired our progressive efforts with an equally bold and visionary partner – Build Your Dreams," said Lancaster Mayor Parris. "Our many successful achievements together have contributed to the city's steady rise as a front-runner in the alternative energy arena. This expansion of BYD's electric vehicle manufacturing facility is a true testament to the commitment of BYD to the southern California region, California, and, indeed, this nation."
Notably, the manufacturing facility is powered 100% by renewable energy, which is provided by the City of Lancaster's energy company, Lancaster Choice Energy.
Main photo: BYD's nearly 800 employees in California were also on hand to help commemorate the new expansion for the Coach and Bus factory. All photos courtesy of BYD