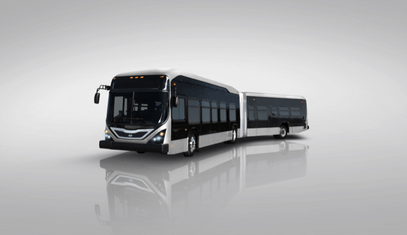 Electric vehicle manufacturer BYD has delivered North America's first 60-foot articulated battery-electric transit bus to the Antelope Valley Transit Authority (AVTA) in Los Angeles County.
The bus, part of AVTA's campaign to fully electrify its fleet by 2018, was also built with local labor in BYD's factory in Lancaster, just miles from the AVTA office. As reported, this is the first delivery from AVTA's order of 13 60-foot BYD buses.
Representatives including Los Angeles County Supervisor Kathryn Barger, AVTA board chair Marvin Crist, AVTA executive director Len Engel, BYD Motors President Stella Li, and BYD Heavy Industries Senior VP Macy Neshati joined together on Wednesday to cut the red ribbon in a ceremony to officially commission the new BYD articulated bus for service on AVTA routes.
"The Antelope Valley Transit Authority is leading the North American transit market with its electrification commitment, and so it's only fitting that they should have the first bus of its kind in North America," comments Macy Neshati, senior vice president of BYD Heavy Industries. "This bus runs longer and holds more passengers than any other commercially available battery-electric bus, and I know it will serve the people of the Antelope Valley well."
Len Engel, executive director of the AVTA, adds, "We've been proud to be at the forefront of the smart business of electrification, protecting our air, saving money and creating local jobs here in the Antelope Valley. Having the first 60-foot articulated electric transit bus on the continent is a feather in the cap of the people of Lancaster, Palmdale, and the other communities we serve."
The 60-foot BYD bus seats up to 60 people and provides a range of 275 miles on a single charge with full charging completed in two to three hours. It will join the rest of the AVTA fleet in serving the half million residents of northern Los Angeles County.