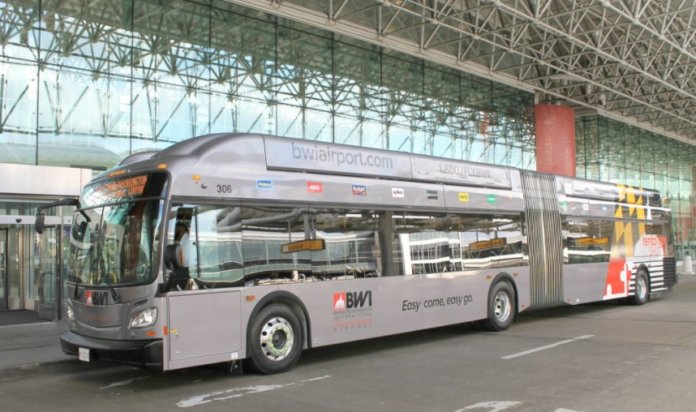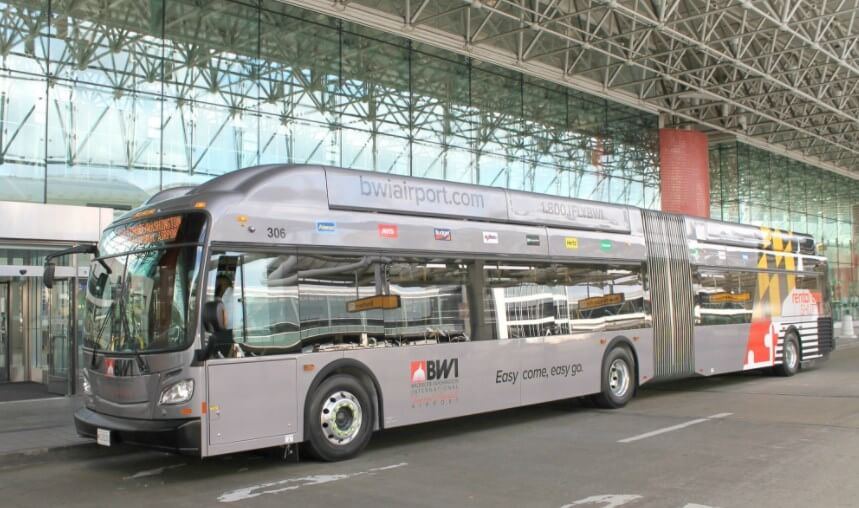 In the lead-up to the busy travel week for Thanksgiving, Baltimore/Washington International Thurgood Marshall Airport recently put into service the first of 20 new buses that provide transportation between the passenger terminal and the airport's consolidated rental car facility. The 60-foot, articulated, compressed natural gas (CNG)-powered buses will provide around-the-clock service at BWI Marshall Airport.
"These new buses will offer our travelers the highest level of comfort and service," said Ricky Smith, executive director for BWI Marshall Airport. "As our passenger traffic grows, the buses will also provide more capacity to serve our rental car customers."
The sleek bus design features the distinctive colors of the Maryland state flag. According to the airport, the new buses, which are manufactured by New Flyer of America Inc., offer many important customer service amenities, including WiFi, USB charging ports, infotainment screens, plush seats, three sets of wide doors and large windows. The articulated buses provide about a 50% increase in capacity over the older rental car shuttle fleet.
In December 2016, the Maryland Board of Public Works approved the contract to procure the 20 buses. The $15 million purchase is funded through the Customer Facility Charge (CFC) fee on airport rental car transactions. About half of the new buses were slated to be in service by the end of last week. The remaining buses will be delivered to the airport and put into service before the end of the year. The new buses will replace a fleet of 40-foot, transit-style rental car shuttle buses that were manufactured in 2004.
Photo courtesy of BWI Marshall Airport's Twitter account