Southern California's Antelope Valley Transit Authority is beginning service deployment this week of three high-power inductive chargers from Salt Lake City-based WAVE – Wireless Advanced Vehicle Electrification.
The 250 kW units will allow for faster charging of AVTA's fleet of all-electric buses from BYD, currently supported by 80 kW and 200 kW chargers, and will do so wirelessly.
"The 250 kW chargers," says WAVE, "will allow AVTA to run their buses for the same number of hours as their diesel counterparts."
Three more units are to come online in February.
AVTA ordered 85 battery-powered BYD buses in early 2016 under a $79 million contract. The order comprises 36 of BYD's 40-foot buses (designated K9), 14 K11 60-foot articulated buses and 35 over-the-road C10 coaches, 45 feet in length – all of them fully battery-electric.
"We have about 35 of the 75 buses here now," AVTA executive director and CEO Macy Neshati tells NGT News.
Although 85 BYD buses have been ordered, "75 is the real big number," he says, "because that's when we become 100 percent green."
The agency in northern Los Angeles County has logged about half a million all-electric service miles.
When all of the battery buses are received and in service, AVTA's existing straight diesel and diesel-hybrid buses will be sold or given to other operators, Neshati says.
The agency has been successfully using 50 kW inductive units from WAVE to charge its early BYD buses at two locations.
This year, 11 new 250 kW units will support at least 35 of the agency's 40- and 60-foot vehicles. AVTA also has nearly 90 conventional chargers, on a network that includes a 1.5 MW backup generator, which the agency says "can power the entire charging infrastructure in case of an emergency."
The first three of the powerful new WAVE units are in the City of Lancaster's transit center located in the Sgt. Steve Owen Memorial Park complex.
Three more are to be operational in mid-February at the City of Palmdale's transit center.
Two are destined for the Lancaster Metrolink station and the last three for the South Valley Health Care Clinic – all to be completed this year, says Neshati.
AVTA may deploy a total of 15 high-power WAVE units, says WAVE CEO Mike Masquelier.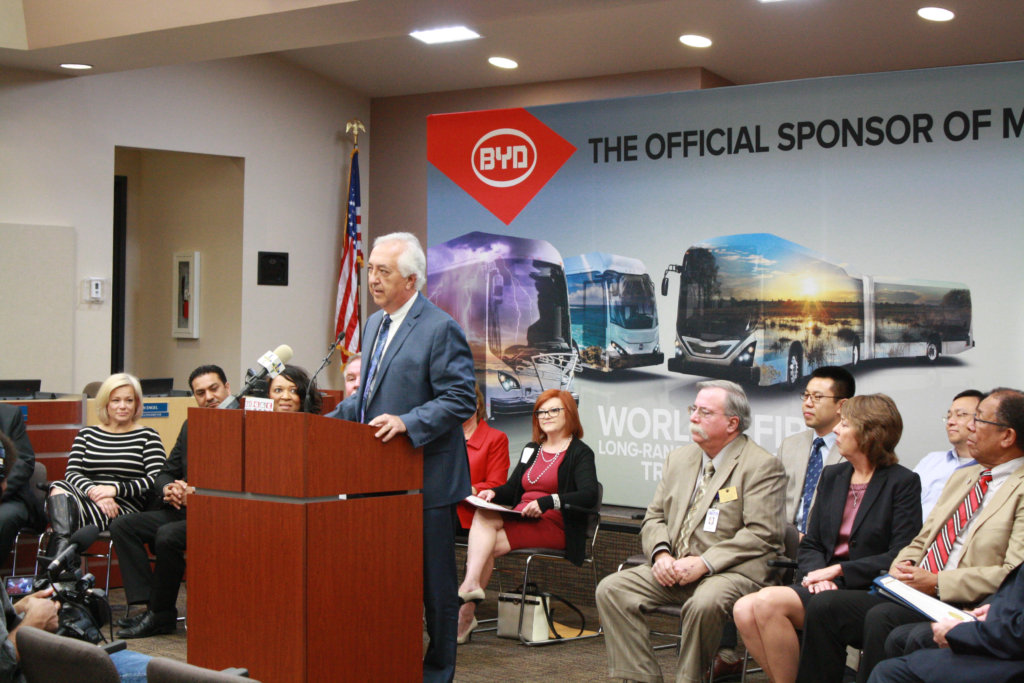 "In the development of this product, WAVE has solidified a product platform with scalability up to a megawatt to accommodate future applications that are even more demanding," the manufacturer says.
Neshati notes that BYD has begun production of the 35 C10 commuter coaches, believed to be America's first-ever such vehicles to be fully battery-powered. Deliveries of the 45-foot vehicles are expected to commence in March.
AVTA has meanwhile logged some 50,000 miles on one of its 60-foot battery buses, and 60,000 on another, and 100,000 and 140,000 miles on two of its early 40-footers.
Rich Piellisch, an NGT News contributing writer, has been covering the alt-fuels sector for more than 20 years.