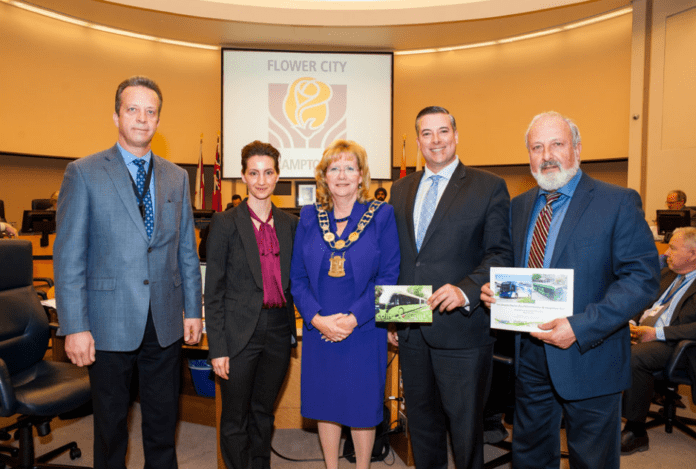 Brampton City Council has approved the purchase of up to 10 battery-electric buses and four high-powered overhead on-street electric charging stations, as part of the Pan-Ontario Electric Bus Demonstration and Integration Trial, facilitated by the Canadian Urban Transit Research and Innovation Consortium (CUTRIC).
For this demonstration project, CUTRIC has brought together transit agencies, funding partners, research teams, technology tools, and manufacturing stakeholders to design, manufacture and deploy electric buses and charging infrastructure in several cities throughout Canada.
Project partners include suppliers of the fully electric buses Nova Bus and New Flyer and charging station manufacturers ABB and Siemens.
According to the city, the new 100% battery-electric buses will be launched on two existing conventional routes in Brampton, routes 23 Sandalwood and 26 Mount Pleasant, with new overhead charging stations at the Mount Pleasant Village terminal, the Queen Street/ Highway 50 Züm station, and the Sandalwood Transit Facility.
The fully electric buses could hit Brampton's streets as early as spring 2018. Total capital costs for the project are anticipated at $13.6 million.
"Mandated to support this kind of industry-led collaboration in low-carbon mobility innovations, CUTRIC is very proud to have been part of this Canadian first and see integrated zero-emissions solutions be put into practice in Brampton," says Josipa Petrunic, CUTRIC executive director and CEO. "We are showing the world Canada is a leader in driving down emissions, improving transportation, and creating greener, cleaner and more mobile communities."
Photo courtesy of the City of Brampton – Alex Milojevic, director of Brampton Transit; Josipa Petrunic, executive director and CEO, CUTRIC; Mayor Linda Jeffrey, City of Brampton; Regional Councillor Michael Palleschi, City of Brampton; and Regional Councillor John Sprovieri, City of Brampton.