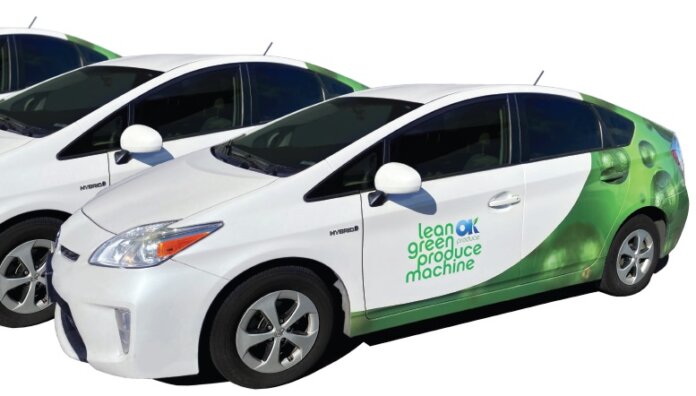 OK Produce, a fresh fruit and vegetable distributor providing daily deliveries throughout California, says bp pulse has completed the first phase of the company's fleet electrification project, having delivered the EV charging solution for OK Produce's mixed fleet of 10 Freightliner electric trucks, three Orange EV yard tractors and three Heliox DC fast chargers, which allows for the service of up to 10 electric tractors.
The chargers operate with Omega, bp pulse's charge management software, optimizing charging times for lowest-cost energy and streamlining charging operations.
OK Produce CEO Brady Matoian partnered with bp pulse for electrification site design, construction, utility engagement, and overall stakeholder management in 2022. SEAM was selected as the engineering, procurement, and construction contractor, and bp pulse coordinated closely with utility PG&E to provide a new line of electric service.
"As we looked to electrify our fleet, we knew we needed a partner that would help us truly maximize the results of our efforts, and simplify the process," Matoian says. "Staying hands on in the decision-making process was important, and being able to trust bp pulse with more of the heavy lifting and technical pieces ensured this project moved forward promptly and efficiently."
bp pulse anticipates breaking ground on phase two of the project in early 2024, further reducing the carbon intensity of OK Produce's fleet operations by introducing solar as a green electricity source. Phase two will rely on key partnerships – including Pacific Solar to install the solar panels and ABB to deliver 14 additional DC fast chargers – to supply power to an additional 27 electric vehicles, bringing OK Produce's total electric fleet to 36.
"Our fleet remains our greatest opportunity for improvement in regard to environmental impact," Matoian adds. "We appreciate the partnership with bp pulse in phase 1 and look forward with enthusiasm toward phase 2 and beyond."