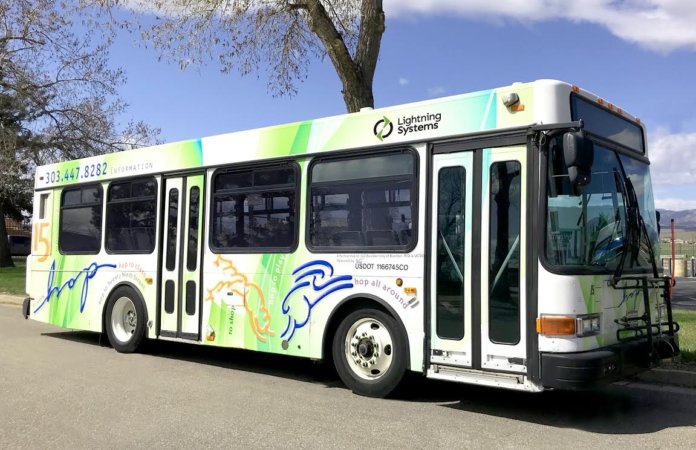 Lightning Systems, a developer of zero-emission solutions for commercial fleets, is partnering with the City of Boulder, Colo., and Via Mobility Services to repower diesel buses with battery-electric systems.
The first demonstration vehicle will be on the road this summer and will give the bus more than 200 miles of all-electric range, says Lightning.
Via Mobility Services, a local nonprofit social enterprise, operates Boulder's HOP transit route, a high-frequency shuttle service serving Boulder hot spots such as the University of Colorado campus and downtown Boulder. This project will be the first step for the City of Boulder and Via in realizing their combined goal of converting the HOP fleet of 35-foot transit buses to zero-emission all-electric vehicles.
Upon the success of the first vehicle, additional HOP service buses may be converted, providing an efficient and cost-effective alternative to replacing the entire fleet with new electric buses, says Lightning. Repowering an existing diesel transit bus with the LightningElectric product will cost a third of the price of a new electric bus, the company claims.
In addition, there is a backlog of two years or more for new electric buses from other manufacturers, so the repowered buses will allow Via and the city to quickly reach their goal of an all-electric fleet in an expedited time frame, Lightning adds.
"People in Boulder are very interested in reducing the carbon footprint in all that we do," comments Frank Bruno, CEO of Via Mobility Services. "Boulder is built on a strong value system for recycling, so why not recycle our buses? Recycle them and make buses out of buses. That's the motivation we've had for doing this. We hope that, upon approval, this partnership with Lightning Systems will blow the market open for repowering old buses around the country, reduce emissions in local environments and stabilize costs for the future."