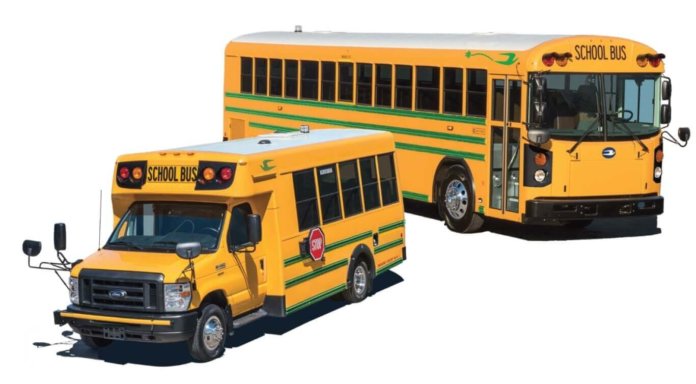 Blue Bird Corp. has announced that a number of its electric buses have passed a technical evaluation phase by the California Energy Commission (CEC) and, in turn, can be ordered through GFO-18-604, a CEC Clean Transportation Program grant.
According to the bus company, school districts in California are eligible for hundreds of thousands of dollars in grant funding toward Blue Bird's Type A Electric Micro Bird, Type C Electric Vision and Type D Electric Rear Engine school buses.
The Micro Bird Type A Electric bus is equipped with a wheel chair lift and is qualified for over $291,000 in grant funding, while the Type C Vision and Type D Rear Engine school buses with and without wheelchair lifts qualify for over $319,000 in grant funding for each bus.
"We are proud to have passed the technical evaluation for this bid, allowing districts to afford these amazing, cutting-edge buses," says Phil Horlock, president and CEO of Blue Bird. "Blue Bird pioneered electric school bus technology as early as 1994, and with our proven, long-term partnership with Cummins, we know that customers can depend on our new generation of electric buses."
The Blue Bird electric school buses currently operating in California have a network of service centers that specialize in electric bus technology, including A-Z Bus Sales.
"This is exciting for districts who are now able to afford to bring Blue Bird's electric buses into their existing fleets," comments John Landherr, president of A-Z Bus Sales. "With over 12 A-Z Bus service and Cummins service locations across the state, districts can rest assured that these buses will be well-supported throughout their lifetime. It is a true win-win for students, school districts and communities of California."