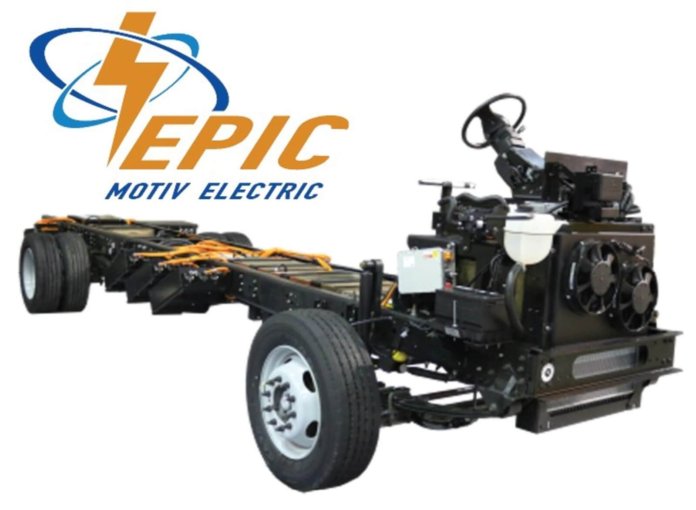 Motiv Power Systems, a provider of all-electric medium-duty fleet chassis for buses and trucks, has announced a five-vehicle purchase order from Bimbo Bakeries USA, the U.S. business of Mexico City-based Grupo Bimbo.
The vehicles will feature Motiv's all-electric EPIC 6 chassis (based on the Ford F-59 platform) with step van bodies built by Utilimaster Corp. Bimbo Bakeries USA will be deploying these vehicles for product delivery in Ceres, Calif. Bimbo Bakeries' brands include Arnold, Ball Park, Entenmann's, Sara Lee and Thomas'.
"Last-mile delivery of baked goods is a perfect use case for EPIC-based step vans," comments Matt O'Leary, Motiv's CEO. "These are high-volume, low-weight applications operating on fixed routes. As such, they are particularly well-suited for electrification."
EPIC chassis feature Motiv's proprietary operating software, which enables a modular approach to safely and reliably control battery and hardware technologies, the company says. They are Ford eQVM-approved and CARB-certified.
"Sustainability is built into our company's purpose – building a sustainable, highly productive and deeply humane company," says Eric McCann, field service manager for Bimbo Bakeries USA. "We are continuously looking for new ways to preserve the environment and reduce our carbon footprint. Incorporating these vehicles into our fleet is an important step toward reducing our fleet's dependence on fossil fuels, and we look forward to introducing the EPIC platform into our supply chain."
Utilimaster's step van bodies will feature a modular cargo area and multiple door configurations, providing maximum versatility.
"Utilimaster is encouraged by the strong market response to our Motiv all-electric F-59 offering," notes Chad Heminover, president of Utilimaster Corp. "It really comes as no surprise to see the rapid expansion of demand for these cost-effective, zero-emissions vehicles into an increasing cross-section of commercial fleet deployments."