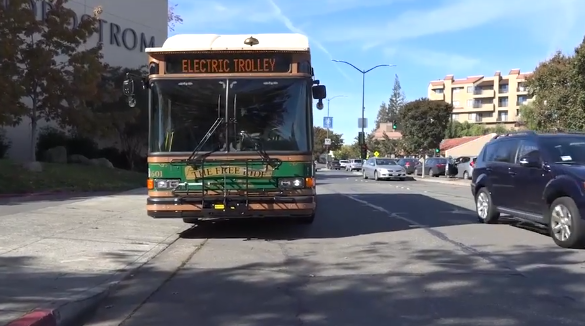 In a recent update, BAE Systems announced that four buses powered by BAE's electric propulsion and accessory systems were delivered to the City of Walnut Creek, Calif., introducing "the first zero-emission transit solution for the area."
As reported, Central Contra Costa Transit Authority, which provides transportation service to Walnut Creek, introduced the all-electric Gillig buses to the community with a ribbon-cutting event on Nov. 5, 2016.
The all-electric buses were secured through funding from a Federal Transit Administration 2012 Clean Fuels grant and local matching funds. Together with bus manufacturer Gillig, BAE Systems was able to develop and deliver a highly capable and reliable all-electric bus to the community.
The company says the Series-EV solution uses the same components as its high-performance Series-E hybrid-electric system, which powers thousands of buses all around the world.
"The primary difference between our traditional hybrid-electric system and the battery-electric system is the elimination of the internal combustion engine and the addition of larger batteries, which store more energy and provide the desired range. Like traditional hybrid buses that use our system, the electric bus takes advantage of regenerative braking and electric accessories, making the bus even more efficient," says Bob Devine, director for advanced applications at BAE Systems' power and propulsion solutions business area.
In this case, BAE Systems says the electric buses shuttle passengers between the downtown area and the Bay Area Rapid Transit (BART) station. A wireless charger system at the BART station charges up the buses' batteries during the layover while passengers disembark and board. The buses then travel back to the downtown area, completing a full route loop. At night, the buses travel approximately nine miles back to the depot, where they can be plugged in and fully charged overnight to be ready for the next day.
To date, BAE Systems has 7,000 hybrid-electric systems in service. Each year, its systems transport 1 billion passengers, saving 15 million gallons of fuel, while eliminating 160,000 tons of CO2 from entering the atmosphere. The company plans to continue developing more efficient transportation solutions, such as all-electric vehicle systems, as well as hybrid solutions for heavy-duty trucks and marine applications.