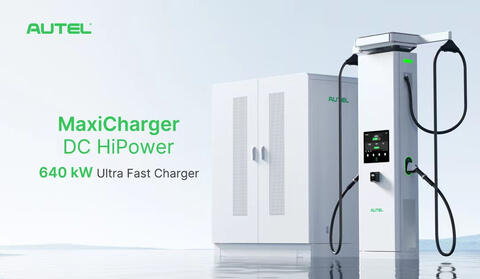 Autel Energy has launched its MaxiCharger DC HiPower 640 kW EV charger for customers in the U.S., offering a "sleek and modern industrial design with a host of exceptional features," the company says.
Among the product's highlights:
Ultra-Fast charging: With a maximum output power of 640 kW and liquid-cooling technology, the unit can provide up to a range of 250 miles in just 10 minutes;
Intelligent operation: Autel's Energy Cube and AI-driven switching algorithms optimize power efficiency and reduce costs through intelligent load balancing;
Reliability: Autel's unified hardware and software design ensures minimal failure rates, enhanced maintainability and optimal uptime. The product boasts a vehicle-charger compatibility rate of up to 99.9%, with a one-time charge success rate of up to 99.5%;
Scalable: The MaxiCharger DC HiPower starts at 320 kW and can be expanded up to 640 kW by adding power modules. Multiple dispensers means fleets can charge up to eight vehicles simultaneously.
"We are thrilled to introduce the MaxiCharger DC HiPower to the U.S. market," says Autel's Michelle Luo. "This product embodies our dedication to safety, efficiency and user convenience, and we are confident that it will transform the EV charging experience for consumers and businesses alike."