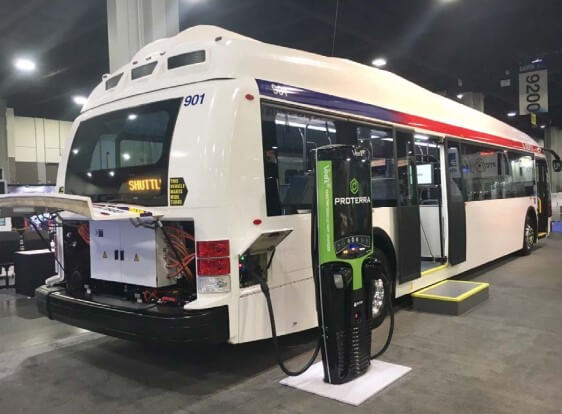 U.S. electric bus manufacturer Proterra has placed an order with Brisbane, Australia-based Tritium for 57 Veefil-RT DC 50 kW fast chargers.
The chargers are the first for the public transport sector to be manufactured at Tritium's recently opened sales and manufacturing facility in Torrance, Calif. They will be available to Proterra customers across the U.S.
"We aim to partner with like-minded companies," says Matt Horton, chief commercial officer of Proterra. "Proterra needed to resource a reliable, standards-based J1772 CCS plug-in charger for our Catalyst range of energy-efficient buses and were looking for a supplier with a similarly innovative approach to technology with the capability to tailor their product to our specifications."
After a trial of the Veefil-RT, Tritium worked closely with the Proterra team to provide a series of modifications to the software in order to meet the company's requirements.
Greg Lary, who heads up Tritium in the U.S., adds, "Proterra wanted to partner with a company that not only had the capability to provide technologically advanced chargers that matched their own market-leading vehicles – they also needed a relationship with a supplier who could support them as they expand and develop in this dynamic transportation market."