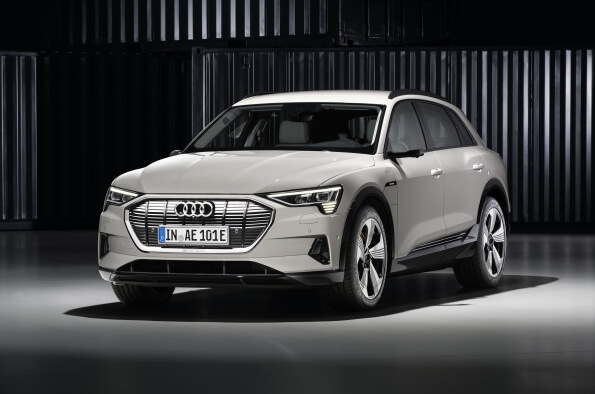 Audi has introduced its first all-electric vehicle, a five-passenger SUV called the e-tron.
Calling the midsize SUV a car for sport, family and leisure, Audi says the e-tron, which starts at $74,800, measures 193 inches long, 76.3 inches wide and 65.5 inches high and features two electric motors that accelerate the vehicle from 0-60 mph in 5.5 seconds.
The e-tron is engineered for both AC and DC charging via SAE J1772 and combined charging system (CCS) standards. The vehicle has a DC fast-charging capability of up to 150 kW – available at select high-speed public charging stations – which can deliver up to an 80% charge in approximately 30 minutes. With a 95 kWh battery using 150 kW DC charging, Audi estimates an approximate range of 160 miles for the vehicle.
For residential charging, a standard 9.6 kW AC capsule charger (Level 2, 240-volt/40 amps) is also provided. This charger will include plugs that can use both a standard 120-volt household outlet (1.2 kW), as well as a fast-speed 240-volt NEMA 14-50 outlet (9.6 kW).
In addition, Audi has announced a residential charging collaboration with Amazon Home Services. "Audi Home Charging powered by Amazon Home Services" offers e-tron buyers a fully digital experience for in-home EV charging installations, designed to simplify the process of setting up residential charging.
Furthermore, through the myAudi app, customers can define their own personal priorities, such as charging when electricity is less expensive. The app can also be used to plan, control and monitor the charging and pre-heating/-cooling of the vehicle, for example.
For charging on the go, the e-tron will be supported by a nationwide charging network, "Powered by Electrify America." By July 2019, this network will include nearly 500 fast-charging sites complete or under development throughout 40 states and 17 metro areas. Electrify America's chargers are capable of delivering up to 350 kW. With the purchase of the Audi e-tron, customers will receive 1,000 kWh of charging at Electrify America sites over four years of ownership.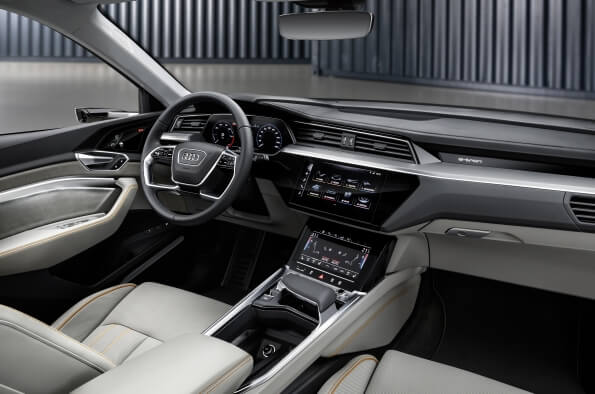 Audi has also announced a partnership with Arcadia Power, a nationwide digital utility service, to allow owners of the e-tron to support renewable energy production and to help offset at-home charging.
In order to boost efficiency, the Audi e-tron uses a recuperation system encompassing both electric motors. On average, Audi's engineers estimate that this system is responsible for as much as 30% of the e-tron's range, depending on the conditions, terrain and driving style. The electric SUV can recover energy in two ways: by means of coasting recuperation when the driver releases the accelerator or by means of braking recuperation by depressing the brake pedal.
The battery system, located beneath the cabin, comprises a total of 36 cell modules in square aluminum housings, each of which is roughly the size of a shoe box. They are arranged on two levels, known as floors. At market launch, each module is equipped with 12 pouch cells with a flexible outer skin of aluminum-coated polymer. The battery operates with a nominal voltage of 396 V and stores 95 kWh of energy.
The Audi e-tron will be manufactured in the brand-new Audi Brussels facility, which was certified as CO2 neutral by Belgian testing company Vincotte. The vehicle will begin deliveries in the U.S. market in the second quarter of 2019.
The suggested retail prices for the Audi e-tron are $74,800 for the Premium Plus, $81,800 for the Prestige and $86,700 for the First Edition.