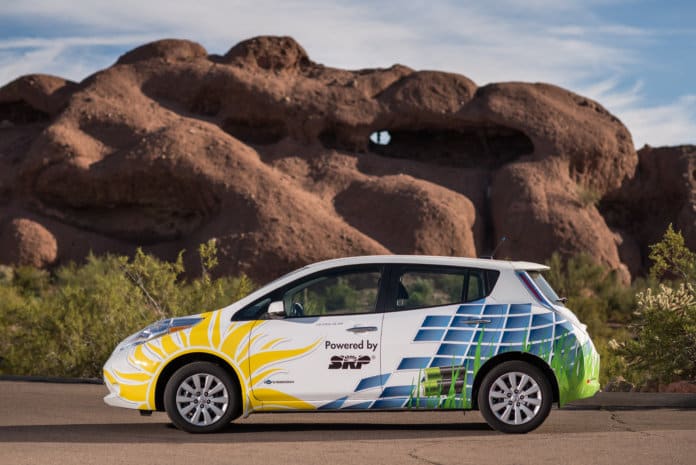 As more drivers invest in electric vehicles (EVs), energy consumption due to vehicle charging is expected to increase, as well. With an eye on this upward trend, Arizona-based utility Salt River Project (SPR) has been working with the Electric Power Research Institute (EPRI) on a study to determine how this will impact the grid in the future.
SRP claims it is one of the first utilities in the country to commission a study of the charging habits of EV drivers. The goal is to determine what impact the increase in energy consumption will have on the grid as more chargers are installed in homes and businesses to meet demand.
FleetCarma data loggers were installed on the vehicles of 100 SRP customers who volunteered to be a part of the study. The data loggers, which plug into the onboard diagnostic port of vehicles, gather charging information such as time, duration and location.
"We wanted to see where and how EVs will impact our system," says Kelly Barr, SRP's senior director of environmental management and chief sustainability and compliance executive. "We also wanted to learn how our customers with electric vehicles selected and utilized our pricing options to determine which price plan worked best for them."
Based on results of 100 participants, preliminary data has found the following:
SRP estimates that the roughly 4,400 current EV owners in SRP's territory use more than 9,121 MWh of energy a year, which equals the average energy consumption of about 652 Valley homes.
At SRP's grid system peak at about 5 p.m., these vehicles also use more than 1 MW of electricity, which is equivalent to about 200 homes.
The study found that time-of-use (TOU) price plans were effective at incentivizing EV drivers to charge later than they normally would, which SRP says will help the utility meet customer demand without needing to add power plants.
Current EV drivers are often referred to as "early adopters," and they tend to be more aware of the savings they can see by utilizing TOU plans and charging at certain times of the day. SRP says it hopes to educate future EV owners on the benefits and encourage them to use TOU programs and avoid charging during peak times.
"With more than 32 models coming to market between 2017 and 2019, electric vehicles are no longer just the small, short-range vehicles that were available in 2010," says Jamie Dunckley, EPRI data scientist for electric transportation. "There soon will be an affordable, electric equivalent to every conventional vehicle currently on the market. Understanding when, where and how much people charge is fundamental to be able to plan for and serve these customers effectively."
SRP says rapid battery cost declines and rising commitment from major car manufacturers have helped increase the popularity of EVs. The utility adds it decided to conduct its own study because Arizona's drivers and climate are different than in other parts of the country: For example, drivers in the region tend to use their vehicle air conditioners more, which impacts the range of an EV.
SRP notes offers several TOU plans including the EV Price Plan, which offers an additional opportunity to save by charging a vehicle during lower-priced, super off-peak hours every day from 11 p.m. to 5 a.m.
The study began in June 2016 and is expected to end this year. SRP says it will conduct a second study later this year with some of the newer EVs that have a battery range of more than 200 miles, such as the Chevy Bolt and Tesla Model 3.
The utility adds it is committed to alternative fuel vehicles, as 20% of its sedan fleet is now electric. In addition, 83% of SRP's fleet is able to be powered by alternative fuel, including biodiesel, electric and ethanol-capable vehicles and equipment. SRP also boasts the largest workplace charging program in the state, with 96 employee-EV owners who charge during the workday via SRP workplace chargers.