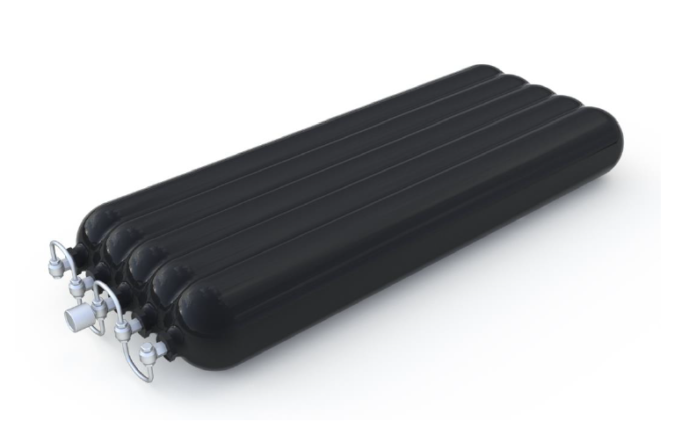 In its latest release, Adsorbed Natural Gas Products Inc. (ANGP) has announced the availability of its PHANGV concept, a plug-in hybrid adsorbed natural gas vehicle, for large frame light-duty vehicle (LDV) mobility and has released a rendering of its current Generation 2 adsorbed natural gas storage vessel.
Over the past three months, Bob Bonelli, CEO of ANGP, has been introducing ANGP's PHANGV concept to various conference attendees in Detroit; Rotterdam, Netherlands; and Orlando, Fla.
"Consumers who prefer a large frame LDV – whether a full-size sedan, a pick-up truck, an SUV or a van – want to make an environmentally beneficial purchase, but also want a vehicle that meets their needs," he says. "These consumers understand the convenience of private fueling but want the powertrain to which they have developed a loyalty. They also want the best value for their money at the time of purchase without the resale drag of an initial purchase taxpayer subsidy."
Bonelli sees the ANGP PHANGV concept meeting all of the demands of this segment of consumers. He says, "The ANGP bi-fuel hybrid low-pressure adsorbed natural gas vehicle, our PHANGV concept for large frame LDVs, enables a privately fueled environmentally friendly natural gas future for the mobility of this class of vehicle.
"Low-pressure natural gas operation opens a wide range of options for on-vehicle fuel storage displacement and for private fueling," he continues.
Stating that any large frame LDV can be a PHANGV, Bonelli says ANGP is looking to "write a new chapter in alternative fueling that will be defined by environmental benefit, consumer satisfaction and increased profits for the automaker."
"ANGP and our coalition of global corporate leaders are determined to enable clean-burning natural gas to become a preferred fueling source for large frame LDVs in the United States and in other regions of the world where natural gas is piped broadly to privately owned homes and businesses," he concludes.
In addition, the company has released a rendering of its Generation 2 storage vessel, which is currently being tested by a standards laboratory for compliance with appropriate American National Standards Institute Natural Gas Vehicle 2 requirements.
Photo courtesy of ANGP – Generation 2 storage vessel