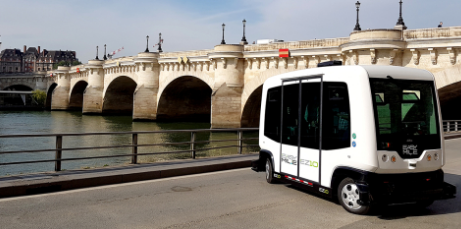 Rail transport company Alstom says it is investing $15 million and taking a minority stake in EasyMile, a start-up company developing the EZ10 electric driverless shuttle. As reported, the investment forms part of the start-up's ongoing capital increase.
In parallel, Alstom and EasyMile have signed a commercial partnership agreement aiming at joining their forces to provide integrated solutions for urban transportation. Alstom will be present at EasyMile's board.
According to EasyMile, the EZ10 provides "shared driverless transportation for the last mile." EasyMile electrical shuttles, which transport up to 12 passengers, operate from a transport hub to a final destination within a precinct or confined area.
Since April 2015, the EZ10 has been deployed in more than 50 sites in 14 countries in Asia, North America, the Middle East and Europe.
"In the frame of its 2020 strategy, Alstom has decided to explore adjacent businesses, especially in the context of digitalization. Through this investment, Alstom expands its knowledge into the driverless technologies and pursues its development in the growing field of smart mobility. We are confident in the success of the EZ10, already tested in different climates and conditions," declares Bruno Marguet, head of strategy at Alstom.
The company says the Alstom-provided funds will be used to accelerate company growth and support the research and development program. Additionally, EasyMile will benefit from Alstom's network to increase its global reach.
Founded in 2014 and based in Toulouse, France; Singapore; and Denver, EasyMile is a high-tech start-up specializing in providing both software powering autonomous vehicles and smart mobility solutions.