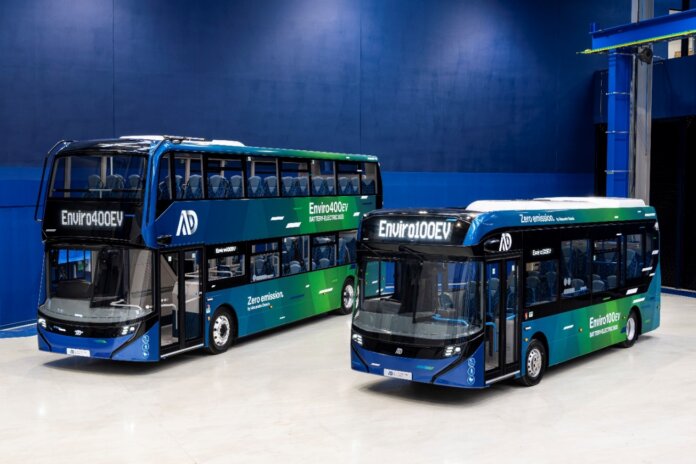 NFI Group subsidiary Alexander Dennis Ltd. has debuted its next generation of battery-electric buses for the U.K. and Ireland with the unveiling of the new Enviro100EV small bus and the Enviro400EV double decker.
These new buses, engineered in-house from the ground up, provide a "step change in performance and a stunning new design platform," the company says.
The 36.4 ft Enviro400EV double decker is designed to shift crowds on busy urban and interurban routes, advancing electrification options for core services across the U.K. and Ireland with up to 472 kWh in battery capacity and a range of up to 260 miles.
The Enviro100EV is a highly maneuverable small bus at just 27.9 ft long and 7.7 ft wide, while feeling like a larger vehicle; it has up to 354 kWh in battery capacity and can cover up to 285 miles on a single charge.
Voith Turbo supplies the Voith Electrical Drive System (VEDS), specifically developed for the requirements of urban and interurban buses. The Enviro100EV uses the medium-duty variant of VEDS, and the Enviro400EV uses the heavy-duty version.
A future-proof battery system has been developed in partnership with Impact Clean Power Technology. NMC lithium-ion cells enables higher total energy throughput – up to 1.4GWh in the Enviro400EV. The buses come with a five-year warranty, while batteries have an eight-year warranty, with an extension available to 12 years based on sensible commercial basis;
The vehicles are fully supported by Alexander Dennis' AD24 aftermarket division, with spare parts stocked in the U.K. with 24/7 ordering, and field service engineers have been trained to support the new vehicles by the AD24 Training Academy.
Production of customer orders for both bus types has now begun, with deliveries expected in the first months of 2024.