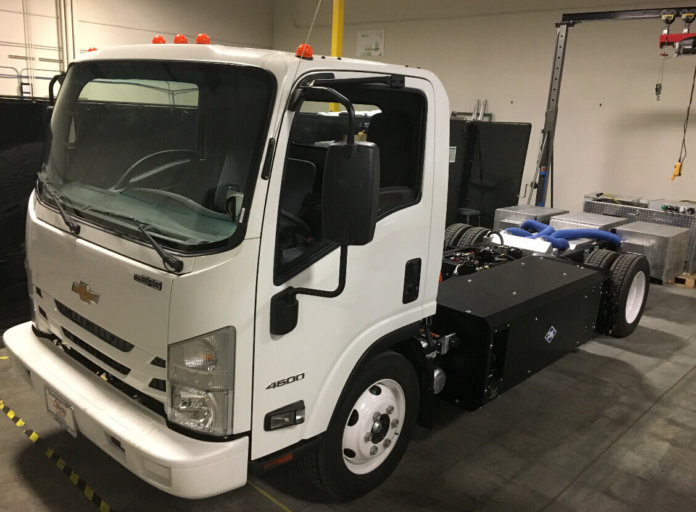 Efficient Drivetrains Inc. (EDI) has integrated its EDI PowerDrive 4000 into a Class 4 General Motors Low Cab Forward platform, creating what EDI calls an "industry-first" electrified work truck for agriculture applications.
The vehicle combines the benefits of a compressed natural gas (CNG) fuel system and plug-in hybrid technology, says EDI.
The zero-emissions vehicle features a technology collaboration between EDI and A-1 Alternative Fuel Systems. It integrates the EDI PowerDrive plug-in hybrid powertrain and the A-1 CNG Frame-Mount natural gas system into a GM Class 4 work truck commonly used by the agriculture industry.
The truck will be operated in California's San Joaquin Valley, a 250-mile-long region susceptible to air pollution due to its bordering mountain ranges, says EDI.
While in operation in San Joaquin Valley, the new vehicle will provide 40-plus miles of all-electric, zero-emissions driving, as well as range extension using cleaner-burning CNG – resulting in a significant elimination of particulate matter that its traditional diesel counterparts expel, says EDI.
"Collectively, the agriculture industry in California is working proactively to improve air quality and exposure to particulate pollution from traditional diesel-based vehicles, and EDI is proud to contribute to this important initiative," comments Joerg Ferchau, CEO of EDI. "Our technology collaboration with A-1 Alternative Fuel Systems combines the value of electricity with cleaner-burning natural gas, delivering a full-powered, zero-emission-capable truck on a vehicle platform commonly utilized by the agriculture industry. We're looking forward to continuing to develop commercially available electrified options for the agriculture industry at large."